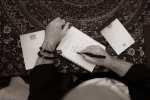 Last year I had the opportunity to a fun workshop for Macy's Asian Pacific American Month.
What I do is sit down with those who want to have me write a haiku and I chat with them. I learn a bit about them and then I write them a Haiku. This format is fun for me and I enjoy the time with the people. When I am done talking with them I take 3-5 minutes to consider what I have learned and then write them their Haiku. I use a scratch pad to write it then I transfer it to a nicer paper with a good brush pen. Then of course I also stamp it with my Hanko.
I am doing this on Patreon now to help fund my Not for Profit. If this is something you would like to recieve please consider helping support my work.
https://www.patreon.com/user?u=4781197

About fiercebuddhist
Welcome. I am happy that our paths have crossed. Here you will find various poems, articles and photography. I hope that you enjoy them and visit often. I am currently working on writing "A Haiku A Day" so that I can, perhaps, have enough good ones for publication. If you are wondering what a "Fierce Buddhist" the following declaration should clarify. The "Fierce" in FierceBuddhist I define as "an obligation to do what I can to benefit all sentient beings, not just those close to me or those I agree with. If I see something or someone that is hurting others I must step forward and do what I can to assist them." In the Army and in the dojo I learned how to defend myself, family and country but that does not mean I endorse the use of force. Two nonviolent examples of Fierce Buddhists that come to mind are Thich Nhat Hanh and the Dalai Lama. While I do not claim be even close to them I can strive and so can you. Furthermore, my Buddhist name, given to me by Sensei Kubose, is Seiyo. His interpretation of my communication and interaction with him led him to this name. He told me Seiyo means "Fierce Sun." The sun shines on everyone without prejudices without giving preferential treatment to anyone. This is tough to live up to, as you can imagine, but it sure sets the tone for my life. In Buddhism this is called a Fierce Bodhisattva. I am only on the path to Enlightenment and can only say to be a Fierce Buddhist.