Hello fellow cake lovers!! My name is Wesley and I will now be in the driver's seat of this blog. I am the new and confused intern who was just hit with a landslide of information and has never blogged before so hang with me.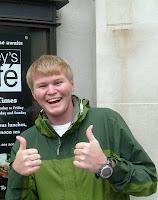 Anyway let's get to know me a little bit! I was born and raised in an extremely hot desert in the Southwest part of the United States called Arizona where the temperature is currently (19/06/12) 106o F or about 41o C. Besides the scorching weather Arizona is best known for there tall tree like cactuses called saguaros that are used in most cartoons and cowboy movies. I am currently studying business management at Eller College of Management in the University of Arizona.
My first day has been interesting and I have already learned a lot about how the Family Cake operates. However, the highlight of the day was my chance to test one of Vincenzo new cakes. Anyway, I have got to go now because Vincenzo has taken something out of the oven that smells delicious and I would like to catch some table scraps!!