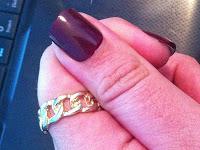 Hello my lovely followers/readers !
I have a new discovery (Late I know!) of Impress Nails! I love these nails. The elegant shape fits perfectly on my nails and is the exact length I would want! I am not the girl to normally wear false nails but these are my new favorite thing! I have only tried two sets and as I am clumsy I have decided not to purchase more until I have a special occasion to wear them.
I love the berry shade of the ones I am wearing above. These are perfect for the Autumn season and create beautiful looks when paired with gold jewelry. These nails are easy to apply and don't require glue. The nails come pre-gluedwith peel off tabs. Impress Nails tend to last longer when you buff your nails before you apply them to create a smooth base for application. The sets I have tried I have often broke one or two off but I have put that down to me not being used to wearing them.
These nails come in a variety of different patterns and colours. I have my eye on the Tie-Dye pattern and the Lace nails in the collection. The nails come packaged in a nail polish shaped container, which makes the nails easy to store and keeps the spares in a safe place! At around £6 in most Superdrug or Boots stores, I think these are the ultimate false nail at-home for me! 
I recommend these nails to anyone who loves false nails or people who newbies to this market like me!
Thanks for reading guys!

x