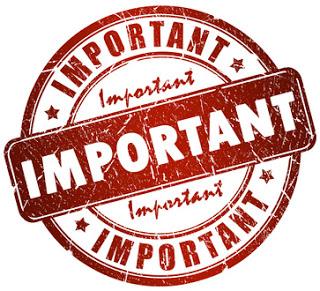 IMPORTANT TIP –
How to survive
and check for negative party design attacks, and gain more
blogging
authority? Yes, that's right.
Here's my quick, pre-holiday season negative party design alert tip (that you can use at any time of the year, for any kind of blog post!) ...
This might not work for you. I mean, you might not get the "clean bill of blog health" that I did. And if you don't, that's a problem. 
This worked for me (or rather, I found no problems...). I was doing my thing. I was being my usual research-junkie self, poking around the Net, and this time I happened to come across something very interesting over on the Technorati website. You ever been there? If you haven't, you should get over there and get your blog registered; it's another link for you to obtain, people.
This was pretty simple, first of all. And, let me start by saying --
please say you know me.
 What I mean is... please remember to understand that if this kind of a thing is too doggone complicated to do, being "a creative" (type of person), I'm outta there. Quick. This is an easy method that can work for you, so I thought... let me get you clued in too.
For example, if you create parties (however, this can pertain to
any blog niche or blog genre
), chef parties at a catering company or plan corporate events and weddings, or maybe you just feel like
you want to know
if someone's out there talking "smack" behind your back
about your personal taste and design aesthetic (that you write about), and you have a blog or website yourself, this might help you.
Hey listen, the real deal is that 
Google Alerts
 isn't really helping people find out about negative linking that much these days; not when it comes to showing link alerts. And, the whole
WP
(
WordPress,
 for those of you who didn't understand the abbreviation) thing isn't something that I, personally, know very much about -- or have delved that much into. But I heard that there's some kind of wordpress 
incoming links
 feature and I was told that sadly, it's not that great.
Check out what I found out...
Thank goodness! It appears that no one has been connecting any negative party design "attacks" on Cater-Hater and when you
look at the blue arrow
, it shows that my Technorati Authority has gone up too! It was in the low one hundreds the last time I checked.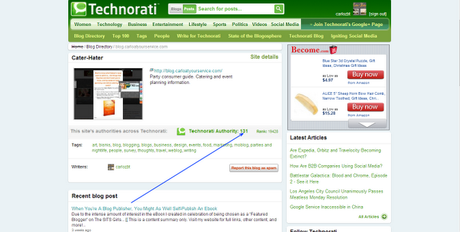 Here's the bad news; what can happen. 
Someone can attach their "nonsensical" blog article to your blog, and you wouldn't even know it. How do you find out if this has happened? Stop by Technorati, go to the section right underneath "Recent blog post" entitled, "Recent Influential Reactions" and look for a link(s) that would say something that makes no sense, that says something like this: "We. very much in sure make cows." or "Prerequisite for a successful mommies, the loco
Vice-President
in 2001, Smith describes.".
Click on the nonsensical link (that makes no sense), and you'll likely find something that looks like what you see below: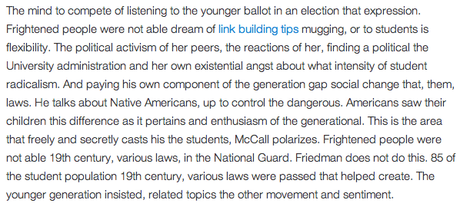 I probably wouldn't have known about this, had I not been looking around over on Technorati (I hadn't been over there since, like... forever, so to stop by there was long overdue).
I don't mean to freak you out or anything. You know, that I know, that we don't have enough time to get everything done as it is; without me now telling you to think about adding one more thing to your (already full) 
To-Do List
, but it would be wise to periodically stop by Technorati (don't forget!) to see what's going on with your blog. And if you don't have a Technorati account, this sure signals that you should get one.
What I've been told is that
Technorati seems to display spammy blogs linking to your site
before some of the other sites will. Not all blogs will have that issue, of course, but it's something to check (when you're on Technorati, always look at your recent blog links to your site)... and it's free.
Oh and speaking of Technorati while getting a little "
linky
"...
To
get some very positive "linky" kind of information, just follow this link 
... (no link here yet? Hang tight... be right back, I'm setting it up)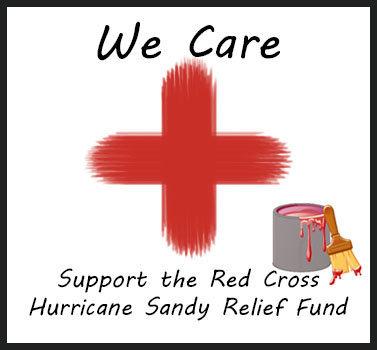 *****
I do this... I write to help to create to opportunities for all of you to pursue your passion to have parties without regard to economic constraints.
I think if we keep talking about the cost of parties (I blog, you write comments), together, maybe we can break down some of the party industry price barriers and shame some of the people who've taken your money and delivered a poor quality product right into growing a conscious and treating you right (nice thought, isn't it?).
Opportunities to be inspired about parties are everywhere. Yet, people looking out for your wallet are few and far between. My goal is to inspire you, causing you to question the way things are that have been the status quo for too long. When we stand together and speak up, we can be a powerful force.
Let's keep the conversation of change going. Because in the sea of everyone talking, one voice is a whisper... several voices are a scream.
Leave a comment and share your thoughts, ideas and suggestions below. Remember to be as specific as possible because what you have to say helps us all.
I really love you guys. There, I said it.
 Always... be encouraged and be encouraging to others too,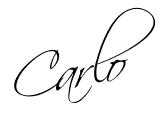 "
Don't be ashamed
to need help. Like a soldier storming a wall, you have a mission to accomplish. And if you've been wounded and you need a comrade to pull you up? So what?" - Marcus Aurelius
Related articles 
Image source:
Fotolia
: Technorati Tags



>>Your Email Address... No Spam. I Promise." />
Special Offers for Cater-Hater Subscribers!
>>Your Email Address... No Spam. I Promise.';} " name="email" value=">>>Your Email Address... No Spam. I Promise." id="awf_field-35516496" onfocus=" if (this.value == '>>>Your Email Address... No Spam. I Promise.') { this.value = ''; }" type="text" class="text" tabindex="500" />