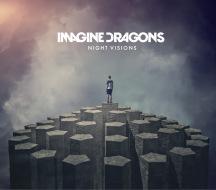 Imagine Dragon is a four-member group made up by Dan Reynolds (Drums, Vocals), Ben McKee (Bass, Backing Vocals), Wayne Sermon (Guitar, Backing Vocals) and Dan Platzman (Drums, Viola, Backing Vocals).  This band is considered to be Indie Rock and has huge hits on the Alternative Radio Charts.
It was in November 2011 that the band signed with Interscope Records and released their first studio album called "Night Visions" that was released on September 4, 2012.  Off of this album they had the first single called "It's Time".  This single is what really helped make this band a household name.  This song had read the top five on the Billboard Alternative and Billboard Rock Charts.  Being on these two charts was the group's first top 15 single.  Even Apple used this song during the Keynote speech in September 2012.
So let's start with the review because let's face it this is the main reason you are on this site and reading this right now.
This album is pretty decent…. that's just it.  It has some amazing songs like "Nothing Left To Say/Rocks (Medley)" due to the fact of the emotion the song has and they were able to incorporate string instruments.  Or the song "Hear Me" which starts off dark and becomes a much more lighter song.  But my favorite song is "America" and it's just something about that song makes me want to listen to it over and over again.
Now I am sure you asking your self if you seem to be liking songs off the album why is it just a decent album?? Well it's simple most of the songs of the album feel like something is missing… one song that stands out that does that the most and that would be "Every Night".  I get where they are trying to go with this song but I just don't feel it.
I can kind of tell the direction the bands wants to go and I don't know if it was because they had some members leave and come in where they got lost of they are still finding there sound I'm just not understanding the direction.
Now here is the answer to get this or not…I would have to say don't.  Wait for the second album to come out.  I think by then they will have found the sound they know they want and know the members who are going to be staying in or not by then.
I can't wait to hear more on what the band has to offer because I do think they will be huge they just need to find their sound.