You know I cant quite put this down to one thing.Either my mom didn't educate myself well enough when I was younger in the rules of makeup(Her idea of makeup is some lippy)ORI'm just incredibly lazy
Possibly a combination of the two.
For years removing makeup has been a case of begrudgingly dragging a wipe over my face. Its not a process Id enjoy. More A necessary evil.
Ive gone through phases of using NO7 cleaner and toner but I never really felt clean and my skin never felt like it was gratuitous of this process.
I mentioned in February Id purchased a few bits from Clinique and also got a bag of freebies.Well Clinique this little bit of clever marketing in this case has truly worked.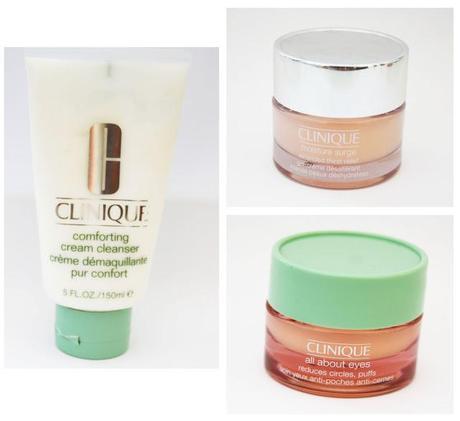 I'm currently using comforting cleanser with a muslin cloth. Ive got a pack of 6 that were substantially cheaper from Ebay. This with warm water is the business. Clinique is famously frangrance free and is gentle on sensitive skin. It also does a fab job of removing eye makeup.
Both the Moisture Surge and the All about Eyes leave my skin feeling amazing. This feeling follows me way into the morning, and although I cleanse again with Soap And Glory Face Soap that soft feeling remains until I apply my makeup in the morning.
Since using these products (coincidence maybe) Ive had no break outs. In general I am lucky with my skin but on occasion Ill get a right whopper that demands its own postcode, so I guess this has made me remain in this routine.
As both little tubs are samples given to me in a goody bag during the Valentines day promotion I shall be purchasing full size. But at the rate I'm going this will be a few months. A little goes a long way! I will defiantly keeping hold of the containers for traveling with.
The main thing about all this is I enjoy doing it. I feel clean fresh and my skin feels amazing.  I really recommend these products, I think the eye cream needs a particular mention because it works well on my relatively young skin and may appeal to other women in their 20s/30s.


Honourable mentions of cleansing products Id like to try are:Superdrug Hot cloth cleanser Liz Earle Hot cloth cleanser- I know I know!
What products are in your skin routine?
In other news:I have a HOT hair product review coming soon!I bought some clothes from the kids section in ASDA  (Similar to WallMart) the other day. At 5"9 I feel a duty to tell you all!