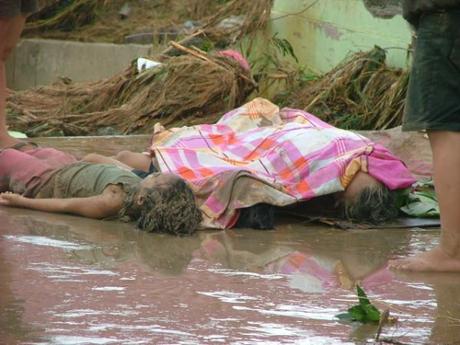 Photo: Mark Landicho
I am in much grief to tell everybody that a lot of Iliganon's lost their lives in the flash floods brought about by Typhoon Sendong. Last night, I arrived at home from conducting an interview with my fellow blogger
www.traveljams.com
and
www.pinaytravelista.com
and a classmate Shy at the Iligan City night market. There was strong winds and rain, but despite that I walk the streets following the trail with my brother Glen who met me at my sister's house. My younger sister sent me an sms telling me not to go home and just sleep wherever I can find a place to sleep with, but I went home despite the text warning. When I arrived home our house is shaking and the roofs are tilting, but with that, our house were able to stand still despite the rain water coming inside our house wetting my bed and myself while sleeping.
The night had past and there was no rain anymore when I woke up, but my emotions broke and tears fell upon knowing that many of my fellow Iliganon's lost their lives from flash floods that occur in Mandulog-Bayug River. www.traveljams.com had lost their restaurant business, and up to now my friend
www.xy-zaspeaks.com
the president of Iligan Bloggers Society Inc. cannot be contacted whom I know residing at Brgy. Lambagohon, Iligan City which is just beside the aforementioned river. As of writing this article there were forty (40) confirmed deaths and two hundred sixty (260) are missing.
Fleire Castro
, one of the founder of Iligan Bloggers Society Inc., came up with this
One For Iligan
campaign using Paypal to donate cash donations of which I and Lisa Marie Mirasol 
http://www.pinaytravelista.com/
 gladly agreed to cooperate with. So here it is...if you want to help just click it and you will be redirected to the instructions. This is the best gift you can extend to the typhoon affected areas of Iligan City. For more inquiries about this...Please do not hesitate to contact me...Help spread this blog article so that many people can extend their helps.
On the other hand, Iligan Bloggers Society, Inc., are also accepting in kind donations and the drop off center is at Calda Pizza, over at Pala-o, Iligan City. Please help spread this article.