The life of an expat can feel a little transient at times. The lure of better pay, perks and passport stamps can be tempered by intermittent goodbyes and a succession of moves through bland, magnolia hued rental accommodation.  There is one constant, of course, and that is Ikea. Like excited newlyweds, a pilgrimage to the land of meatballs remains an essential rite of passage for freshly transplanted expats, as we pile our trolleys high with Ordning utensil racks, Expedit bookshelves and all the items we thought we'd seen the back of from our previous lives.
Even if you've shipped every last teacup and light bulb from your previous home, you can guarantee there will be something that just doesn't work in your new space, or needs replacing. If we're honest, most of us probably aren't looking for longevity or the highest quality; rather a stylish and practical 'quick fix' to last a few years and at a price that doesn't make us wince. It's not just a price thing, however. Let's face it, Ikea is pretty groovy and, if done well, a smattering of 'modern Swedish' mixed up with inherited and older pieces conveys just the right amount of design savvy to pass muster. The thing is, all your friends will have the same idea, and their smattering will likely consist of the very same pieces too, and when the two-year assignment has morphed into five, it's probably time to rethink the Billy bookcase. So, what to do?
It's easy to dismiss the idea of revamping 'throwaway' furniture as a false economy, but in these thrift-conscious times an entire industry has sprung up to champion the art of repurposing and customising items from the Swedish giant. 'Ikea Hacking' has achieved near cult status among crafty types and home décoristas with a creative flair and a knack for transforming flea market finds. Their holy grail is website ikeahackers.net. Started as a simple wordpress blog in 2006, the slick new site is dedicated to showcasing reader hacks and is also a treasure trove of hints and tips for anyone considering a revamp. Some are a little wacky, but many are truly inspired and go way beyond a lick of paint. Here are a few relatively straightforward hacks to inspire you…..
A few sample sized pots of paint and bulldog clips to hold it all together are all you need for this 'Prant' storage box hack: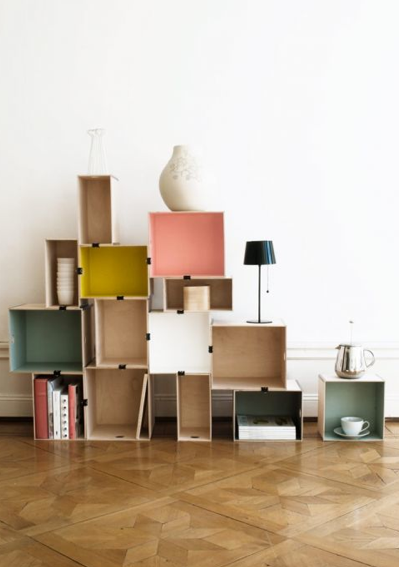 Photo courtesy of sugarandcloth.com
This paint-dipped effect is one of the easiest  - and most striking – ways to hack your Hemnes nightstand:

Say Hola! to ombre with these pretty, tonal inspired hacks: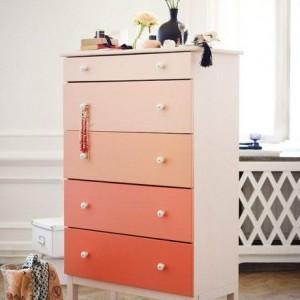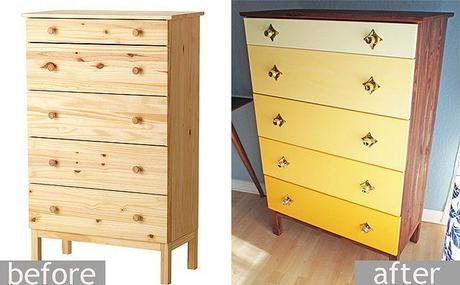 Adding wallpaper or fabric to the back of a shelving unit brings the illusion of color and pattern to a wide area of bland  wall space:

Campaign chests are hugely popular right now and the addition of quality brass hardware and high gloss paint totally transforms these 'Rast' drawers:

Kids' rooms = tons of creative potential and a coat of chalkboard paint on these dinky tables is a practical yet fun hack: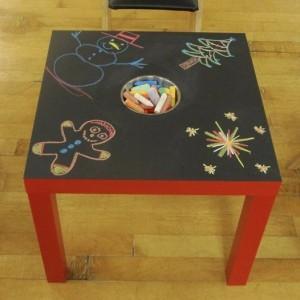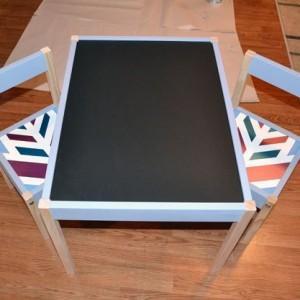 These clever storage unit hacks create a headboard on the right and a train table on the left: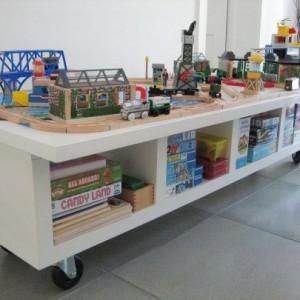 If this all sounds a little too 'Changing Rooms' and perhaps a little beyond your creativity levels, there are other innovative ways to update your Ikea pieces with little effort. From sofa slipcovers in chic, high end fabrics, to simple decal transfers custom cut to fit specific pieces, an entire cottage industry exists to help you make the most out of your Ikea items, and, crucially, to set your kit apart from your neighbour's. Here are some of the best:
A U.S based company offering customisable decals for a wide range of Ikea classics. The website is incredibly easy to use, simply select your chosen item of furniture, choose from one of the many artist designed prints and voila, your item is shown mocked up with the design, ready to print and ship. Worldwide shipping.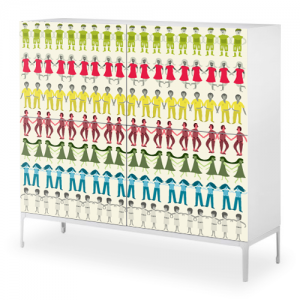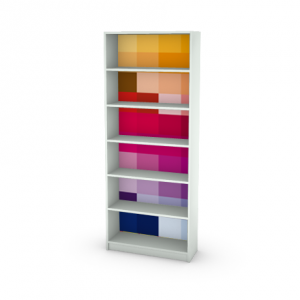 PANYL is an utterly genius invention; a self-adhesive furniture covering that can either be cut to shape freehand or available in a variety of pre-cut Ikea compatible designs. Made from high quality, flexible, no-VOC vinyl; the panels come in a number of fantastic woodgrains, patterns, brushed metals or saturated color options that are super easy to apply, making this a slick and fail-safe update for even the most cautious Hacker.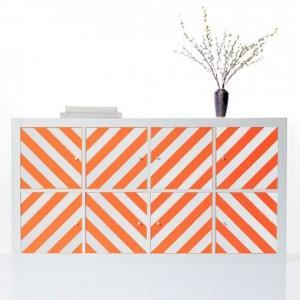 O'verlays
Another  inspired idea and the brainchild of two U.S based designer friends who saw a gap in the market when they failed to source the right fretwork panels needed to customise an old Ikea Pax wardrobe. The result is a whole range of brilliant fretwork panels and overlays which come custom shaped to fit a wide range of Ikea staples, or by piece to customise by hand. The panels are made of a composite material that can be easily painted and cut to size. U.S based but ship internationally.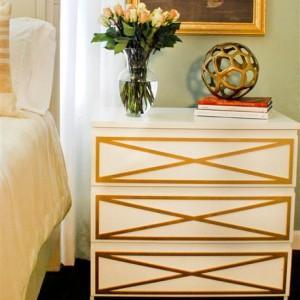 Bemz
When Canadian Lisa Pennington moved to the U.S to work for Apple Inc, little did she know she would fall in love with her Swedish colleague and soon be living the dream with a summer house in Sweden and running a business making custom slipcovers, bed skirts, cushions and covers for Ikea furniture. Doesn't get much more Swedish than that. The slipcovers come in 180 designs made from high quality, natural fabrics by designers such as Marimekko and Designers Guild. They are guaranteed for three years and many come with stain protector and are shrink resistant. Ships worldwide to 37 countries.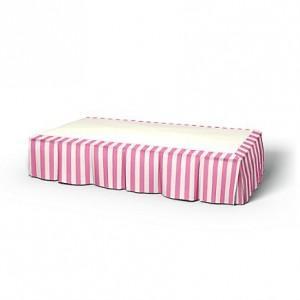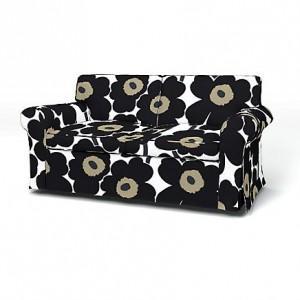 It's amazing how the little details can make such a huge difference to the look of a piece of furniture. Adding a set of Prettypeg's natty feet can elevate a basic Ikea piece to something really rather special. Sleek, with a mod-luxe vibe, these wooden beauties are designed in Sweden and come in ten different styles with a number of size and color options. Free worldwide shipping through to the end of October.