IIIT Delhi is a Delhi based technical university which is creating the buzz for last few years in the country in terms of placement, education culture, faculty and research. Within only 10 years from its inception, this institute has created an unique identification because of its open and flexible education environment. This post is dedicated to deliver the last 4 years placement analysis of IIIT Delhi.
Before starting the analysis, have a look on the list of the A+ companies visit IIIT Delhi (though this is not the complete list):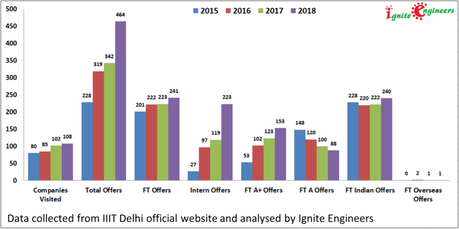 FT A+ Offer (CTC => 10 lakhs)
FT A Offer (6 lakhs < CTC < 10 lakhs for years 2017 and 2018) and (5 lakhs < CTC < 10 lakhs for years 2015 and 2016)
If we would observe the above statistics, we can see a good linear growth in total number of companies visited and total offers given year by year. Three best things which can be observed are as below:
Where as Full Time offers having a liner growth, Internship offers are getting a good ramp every year. This signifies that the institute is very active in providing industrial work experience to its students during their final year of graduation. This enables the student to be well trained before joining a full time job.
We can observe that there is a rise in A+ type offers and a decay in A type offers every year. This is also a good sign that every year more number of students are getting placed with higher package (>= 10 lakhs per annum).
The best thing can be seen from the last category in the chart (Overseas offers). The brain drain is very less from this institute. We do not know whether the institute is unable to attract the overseas firms (which looks little unlikely) or intentionally they don't invite them. But whatever it is, eventually the result is good for our country.
IIIT Delhi B.Tech Salary Statistics for last 4 Years

IIIT Delhi M.Tech Salary Statistics for last 4 Years

Percentage of IIIT Delhi Students Placed

The above analysis shows that newly emerged IIIT Delhi doing equally as good as well established old IITs for the CSE and ECE branches.
All the data are collected from the official website of IIIT Delhi and compiled and analysed by Ignite Engineers.
IIIT Delhi Placement Analysis