The coach from Buenos Aires to Iguazu falls takes approximately 18 hours which is why we chose to take the overnight option; attempting not to use up one of our days watching the road roll by, but rather; save a night in a hostel, arrive at 'Puerto Iguazu' at a reasonable time which would allow us to explore the town a little before heading off early to Iguazu Falls the following morning and spending a day there.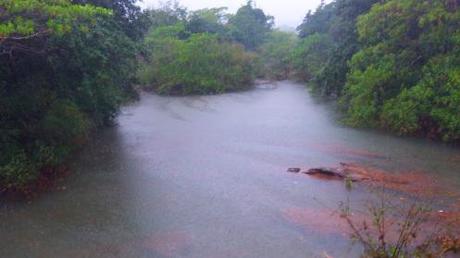 With a, surprisingly, good night's sleep under our belt, we arrived in Puerto Iguazu in the early afternoon and through our close-to-fluent-Spanish (employing some poetic license there) we managed to ascertain where our hostel was, how to get there and that it was a short walk down the road – something we were pleased to hear in any language.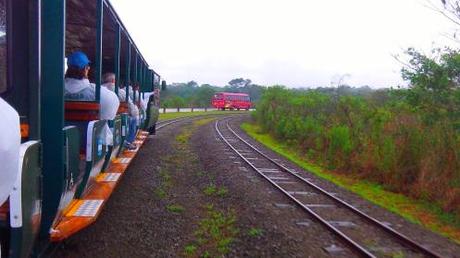 45 minutes of walking later, exploring possibly every street and alleyway in the town, we eventually arrived at our hostel, drenched in sweat, flip-flops on their last, desperate legs, pride damaged and our faith in our knowledge of Spanish beaten down. Those who do know us however can rest assured that our sense of direction is equally as awful in Spanish as it is in English, so at least consistency was on our side. The hostel was great however, when we did eventually find it. Comfortable beds, spacious rooms, a swimming pool extremely friendly staff (although we had to reignite our faith in our ability to understand Spanish again – who knows where we might end up) and an abundant number of options to tour Iguazu Falls and the town itself.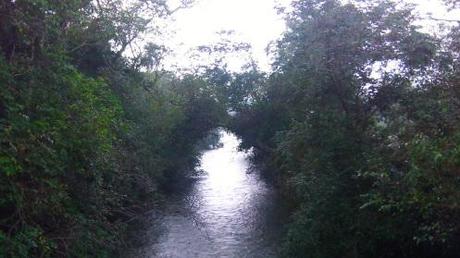 Our timing was such that we could only visit the falls on this one day, leaving us some time to see the town properly the following day and then to catch our bus into our final country on this trip; Brazil. Waking up from a lovely night's sleep, we readied ourselves in shorts, a t-shirt, trusty flip-flops, insect repellent and armed with our map we were off, only return back within one minute of leaving to pick up our rain coat as the heavens had most definitely opened! This was going to be an interesting day, and when we say 'interesting' we mean; wet.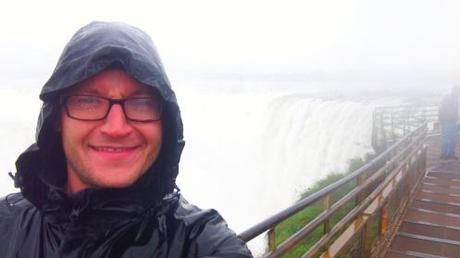 Throughout our entire trip, we had heard consistently what a 'must do' Iguazu Falls was and when our travel partners; 'Everyday Somewhere' advocated it with such strength too, well there was no way we were going to miss it, even if there was more water falling from the air than there was falling over the….falls. It's a relatively short bus ride from Puerto Iguazu to the national park and the site of the falls. The entrance fee for the park works out to be around US$25 per person, which, when you consider the size of the 'park' and the content of the park, it isn't a ridiculous amount of money to spend. A short walk from the entrance is where you can get the train that takes you to, possibly, the most impressive area of Iguazu Falls – Garganta del Diablo.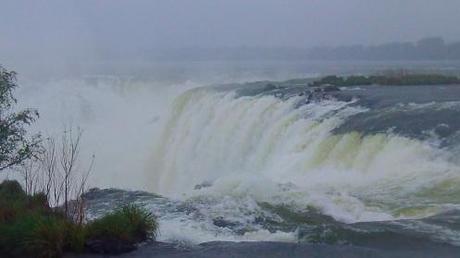 From the station where the train drops you off, it is about a 15 minute walk along man-made walkways that take you safely, yet impressively, across the Iguazu River and eventually to the edge of the horse-shoe shaped 'Garganta del Diablo'. The power of this astonishing waterfall is apparent and immediately identifiable by the deafening sound as the cascading water bounds over the edge of the precipice thundering to the waiting river below. In truth, if you do have the option to wait for a clear day; do so. Although the rain, fog and spray from the waterfall obscured our view a little, at times it did clear to reveal a little more of the waterfall and make an impact on us even more – just astonishing.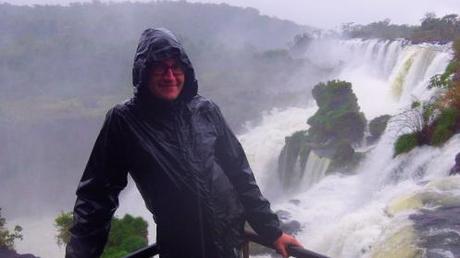 Heading back further into the park, we were really impressed by the layout and the way in which the paths were clearly laid out, along with the names of the waterfalls being displayed and actually matching our map too – which was lucky when considering our total lack of sense-of-direction. It gave us some confidence that we were actually going to see all of the separate waterfalls that make up 'Iguazu' and not just make our way round seeing the same three each time.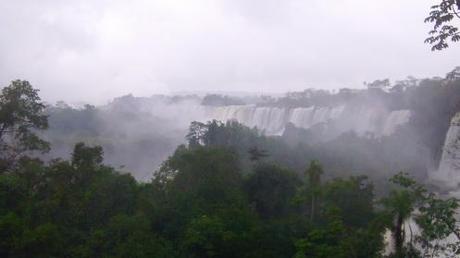 On one section of one of the walkways, as it snakes through the forest, we past two mammals, just hanging about on the railing of the walkway, we are pretty sure that they were called 'coati' and although wild, they were not concerned with our presence in the slightest and were, in fact, a perfectly timed distraction as we continued to walk, looking at the over our shoulder while we wandered into a clearing, turned our heads forwards once more and was met with the most incredible view of the falls as they seemingly continued for miles; water just racing over the edge of the cliff-like plateau and crashing to the floor below. It truly was an awe-inspiring and inducing moment.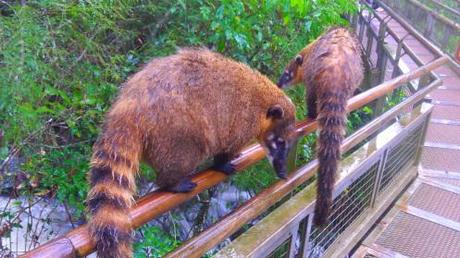 Continuing our journey further in to the heart of the waterfall dance, winding our way through the forest we came to a section where the walkway took you, pretty much, underneath one of the waterfalls and as we were already completely wet – truly soaked through – it seemed like the only option was to try to get as close to the waterfall as possible. This proved to be a fantastically stupid idea as where before we had assumed we were wet – that was nowhere near as wet as we had just become.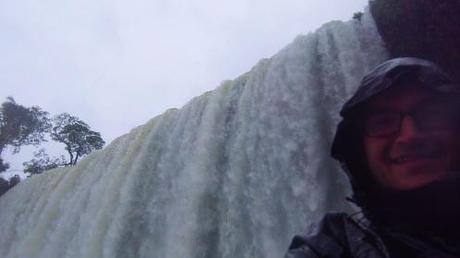 Making our way back the way we came, there was a small 'ranger station' where they were selling seats in a boat for a river trip for a closer look at the falls. As we were definitely as wet as we were ever going to get and felt that this was something we should do while in this amazing setting, we parted with some more Argentinian pesos and were soon on a boat heading towards these magical, terrifyingly powerful waterfalls. The skills of the boat driver was amazing as he took us on several passes moving us within inches of the falling water, however that was just a teaser as on the final passes he pretty much dunked us under the waterfalls. Where once we thought we were as we as we possibly could be; we proved wrong after this little trip. Still, it was an amazing experience and although a bit pricey for what it was – we were pleased we did it.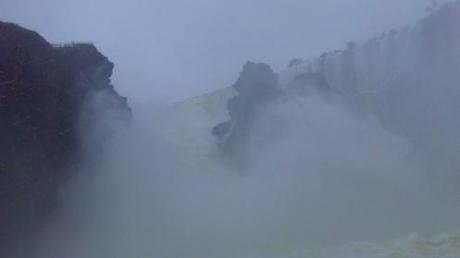 After walking round the park for a few hours, the feeling of being saturated had just about begun to become a touch frustrating, so as we had seen the vast majority of the park, we felt it was time to head back to our hostel for a warm shower, a change of clothes and some warm food. Despite the inclement weather, Iguazu Falls had left a big impression on us; this was truly a wonder of the world, well, officially a 'new world wonder', and if you are ever in two minds as to whether to go here, if you find yourself in either Argentina or Brazil; remove that doubt immediately and go!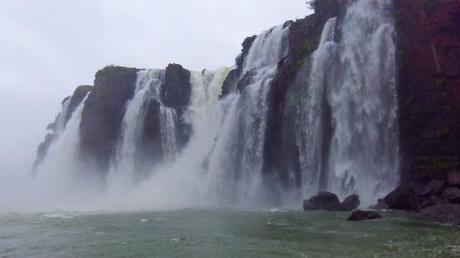 That evening, we went out to get a nice Argentinian steak and found a wonderful little street restaurant that barbecued their meat in a rather large brick-built-recess found in the outside of the restaurant and the smells flowing from the grill were simply sublime. A couple of cervezas later and we were headed back to the hostel as we were up early the next morning to catch the bus that would take us to the border or Argentina and our final country on this trip; Brazil!