The last day of the work week on ideas – how is your mind moving? – Are you capturing your ideas, are you giving and exchanging them?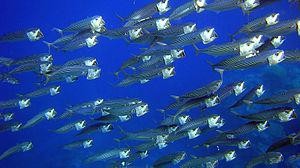 English: group of fish near the beach of Sharm El Naga (Photo credit: Wikipedia)
Anne Heywood said this:
"We must treat ideas somewhat as though they were baby fish. Throw thousands out into the waters. Only a handful will survive but that is plenty."
It also implies that ideas are plentiful – which they are!
Making it a habit to think, capture, throw out ideas is a magnificent way to live. Keep going!
Friday Funny:
Jars and Bottles
A woman was trying hard to get the catsup to come out of the jar. During her struggle the phone rang so she asked her four-year old daughter to answer the phone.
"It's the minister, Mommy," the child said to her mother.
Then the girl said into the phone, "Mommy can't come to the phone to talk to you right now. She's hitting the bottle."
You Create Your Day by the way You Think! Be Present!
Go make it a Magnificent Day!
Blessings, Shawna