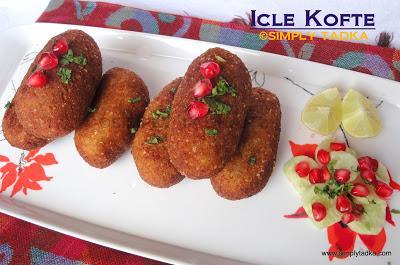 Icle kofta is really fantastic dumpling recipe in which crust prepared with broken wheat and paneer and stuffed with paneer and onions. It's really unique and tasty version of kofta or dumpling which you can serve as snack with green coriander dip and tomato ketchup. Even you can serve this recipe with tomato and onion based gravy as main course. 
This time I choose Special theme in BM where I get chance to taste and explore the recipe from my co-blogger's blog. So for this I choose Gayathri's blog Gayathri Cook Spot, she is really fabulous cook and friend of mine in BM. Last time, she had posted one really unique recipe Icle Kofte under dumpling theme which attracts me a lot. Here I get the chance to explore this kofta recipe in my kitchen and share with my friends. Hope she will like it my trial.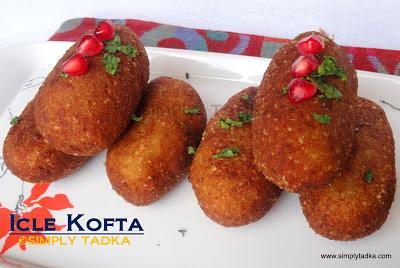 Preparation Time:  40 Minutes
Cooking Time: 30 Minutes
Servings: 6
Recipe Source: Gayathri's Cook Spot
Ingredients:
For Crust
1/2 Cup Broken wheat
1/3 Cup Cottage Cheese/ Paneer, Crumble
2-3 Tbsp. Semolina/ Sooji
Salt to Taste
1/2 Cup Hot water
Bread crumbs, Optional
For Filling
2/3 Cup Cottage Cheese/ Paneer, Crumbled
1 Small Onion, Chopped
2 Tbsp. Raisins
Salt to Taste
1 Tsp. Coriander Powder
1/2 Tsp. Red Chili powder
1 Tbsp. Coriander Leaves
1 Tsp. Oil
Oil for deep frying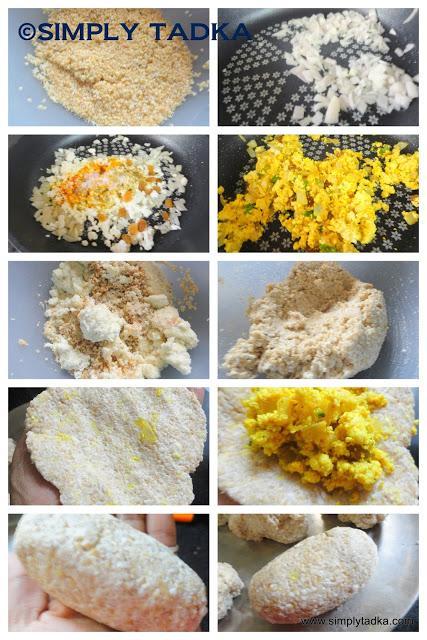 Instructions:
For Filling
Heat the oil in non-stick pan. Add onion and sauté for 2 minutes.
Add crumble paneer and spices. Mix well and sauté for two minutes. 
Add raisins and coriander leaves. Mix well and remove from the flame.
Keep aside to cool at room temperature.
For Crust
Soak the broken wheat in hot water. Cover and keep aside for 15-20 minutes.
When wheat absorb whole water and become soft, add crumble paneer, sooji, salt and pinch of red chili powder. Knead as soft dough.
If dough is loose, add 2 tbsp. of bread crumb and mix it. Divide the dough into 6 equal portions.
Take each portion in to palm and place 1/6th portion of filling in between.
Cover the edges in shape of elongated kofta. 
Heat the oil in deep bottom pan or wok. Add the kofta in pan and fry them till to golden.
Serve hot koftas with chutney and lemon wedges.
Note
: If your kofta are not bind properly then roll it in bread crumbs and fry them.
Check out the 
Blogging Marathon page for the other Blogging Marathoners doing BM#31
Enter your email address:
Delivered by
FeedBurner