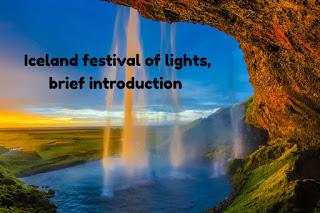 Iceland is a magical place to celebrate the holidays. The culture is rich in Christmas traditions, and to be honest, for a festival of light, darkness is an asset.
Icelanders celebrate 13 days of Christmas, and traditionally, the celebration is centred on good food and family. Loved ones gather to share food and have a good time.
Iceland is one of the most active volcanic areas on Earth and usually experiences a volcanic event every 5 years on average.  The largest recorded lava flow in history occurred during the summer of 1783, when a 25 km row of craters, Lakagigar southwest of Vatnajokull, poured out 14 km of lava.
Icelandic nature offers magnificent scenery, and it is easy to get distracted by ye sheer beauty of its surroundings.  All roads are not created equal in Iceland, during winer you can expect ice, roads that are impossible to snow, and limited visibility.
"Peaceful" is one of the first words most people use to when asked to describe Iceland. That's understandable, seeing they are describing a country with vast stretches of uninhabited terrain and the lowest population in Europe.
Thanks to Gulf Stream, Iceland enjoys a temperate maritime climate. The summers are cool and winters mild. However, the weather is notoriously unpredictable.
Iceland is typically divided into seven different geographical regions. Each region differs slightly with respect to both culture and landscape, but are all uniquely Icelandic. West Iceland is one of Iceland's most geologically diverse regions. The Westfjords are one of Iceland's best-kept secrets, a sparsely populated area in the country's northwest corner. The North of Iceland is a land of contrasts with its long valleys and peninsulas are interspersed by mountains. lava fields and smooth hills carved out by rivers. The east coast of Iceland is home to the country's largest forest, lush farmlands, and a range of small fjords and islands. South coast is home to some of the country's most visited tourist attractions. Reykjanes peninsula is a geothermal wonder where lighthouses outnumber villages.
The Reykjavik also known as "Smoky Bay", has grown to a lively city, full of culture and recreation. With more than 220.000 inhabitants, it has all advantages of an urban centre, without the bustle of a major metropolis. On sunny days, locals will gather at Austurvollur square in front of the parliament building or go sunbathing at the geothermal beach at Nautholsvik.  The streets of downtown Reykjavik are lined with cafes, restaurants and bars, while playful murals and street art testify to the city's sense of creativity and fun.
Art galleries showcase the works of classic Icelandic artists, with smaller independent galleries display the projects cutting-edge, contemporary Icelandic and international artists. Various museums preserve the culture and history of both the city and the country at large. Designated as a UNESCO City of Literature, Reykjavik safeguards a treasure of literary works and a wealth of talented poets and authors.
If you are planning a trip into the highlands and the interior of Iceland, keep in mind that a 4x4 vehicle is essential. You will most lightly come across rough terrains and unbridged waters. For some mountains tracks it is advised that two or more cars travel together.
Iceland has emerged as one of the Europe most dynamic gastronomic destinations, full of exciting places to taste thrilling new recipes. Chefs create modern dishes with traditional ingredients, influenced by the philosophy of the New Nordic Cuisine, where freshness and local, seasonal play a vital role.
There has always been a lively arts and culture scene in Iceland, reaching back  as far as the settlement of the country. Some people believe it is because Icelandic artists seek out inspiration in the dramatic Icelandic nature, while others believe it has to do more with external conditions.
The Icelandic language (Islenska), has always been a vital part of the nation's identity. Icelandic most closely resembles the Old Norse once spoken across the Nordic countries.  This is due to centuries of isolation in addition to the nation's conscious struggle to preserve its language.
Throughout the centuries, Iceland has developed a unique tradition for storytelling and literature. More books are written, published and sold per person per year than anywhere else in the world.
The most famous books that Icelandic literature boasts are the esteemed Icelandic Sagas from the tenth and eleventh centuries. After being passed down orally, they were likely committed to paper in the thirteenth or fourteenth centuries.  Because of this, Icelanders can trace their history to the first settlers in the country through literature, and other Nordic countries can find descriptions of their old kings.
Filmmakers have long been lured to Iceland, inspired by its beauty, long daylight hours, and the varied landscapes that make is possible to create different worlds within a short distance of one another. Many big-name films and television shows have been shot here like : Star Wars The Force Awakens, Justice League, Captain America, Batman Begins, Game of Thrones; just to name a few of them.
The island of Grimsey is the northernmost inhabited part of Iceland, located so far up north, in fact, that it straddles the Arctic Circle. During summer solstice, the sun is visible for twenty-four hours straight. On winter solstice, it's reversed with no sun at all.
The extreme darkness of the Icelandic winter has a lot of bright spots. Between September and April, Iceland is treated to magnificent natural display: the Aurora Borealis. Named after the roman goddess of dawn, Aurora, and the Greek name for the north wind, Boreas, the phenomenon is often simply referred as the Northern Lights given they keep to the far-northern latitudes.
Iceland is a hiker's paradise. More then half of the country lies above 400 metres (1300  feet) , and the landscape is extraordinarily diverse, with large areas covered with colourful mountains, lava fields, glaciers, hot springs, lakes and black sands.  Hiking is a popular activity in Iceland, and beautiful trails can be found in all parts of the country.
The volcanic landscape of Iceland was made for extreme experiences. From the rugged mountains to the rapid rivers, there's an incredible range of terrain for outdoor enthusiasts to explore. The Icelandic hillsides provide opportunities for skiing and snowboarding. For  whose of you, that prefer motorised adventures, you can choose between guided snowmobiles tours around Iceland's glaciers or jeep safaris across the highlands. In safe spots, surfing is a popular pastime, and the waves are first class for those brave enough to hit the water.
Nature is one of Iceland's main attractions. It can be both beautiful and unpredictable. Always be prepared for different weather and conditions. Natural hazards, such as earthquakes, eruptions, flash floods, storms and avalanches, are uncommon, but they do happen. Always carry adequate equipment like warm clothes, communication devices, a map, a compass and a GPS are all important.