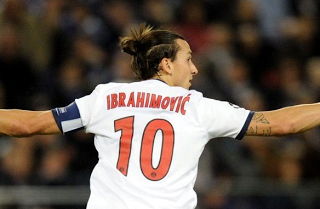 Paris Saint Germain's forward Zlatan Ibrahimovic can now be truly classified as an unstoppable goalscoring force, especially as he has been propelling PSG to the top of the Ligue 1 and their Champions League group with increasingly stunning performances. Last weekend in Ligue Un he brought back his kung-fu goalscoring style to produce a stunning backheel goal to open the scoring in his side's 4-0 weekend win over Bastia (he finished that match off with a brace). Ibra has now followed up with four fantastic goals in PSG's 5-0 victory over Anderlecht in Belgium (Cavani tucked one away as well with a lovely finish). While the debate regarding Messi and Ronaldo as this generation's best soccer/football player seems ever present, it seems about right to eye big Zlatan as a potential challenger after his latest performances.
With the upcoming summer World Cup in Brazil a chance for every top player to imprint his name in history, Ibrahimovic will have a direct chance to assert himself as the name to remember in the next international break's upcoming FIFA World Cup Qualifier match when Sweden and Portugal face off. At 32 years old this might be Ibra's last possible World Cup, making this upcoming summer the perfect time to see the big Swede in his prime. If the Swedish striker can conjure up a decisive goal for his side to knock Portugal and Cristiano Ronaldo's out of the upcoming World Cup, it would difficult not to consider him one of the top names of the upcoming Ballon d'Or list.
There's still plenty of time to assess how those top names will rank, especially with this weekend's upcoming Clasico in La Liga when Barcelona host Real Madrid. Meanwhile Zlatan's PSG side will be traveling to face Saint-Etienne, giving the forward a chance to score a few against a side which has only gotten four points from a possible 15 in their last five fixtures. With 45 goals in his 61 games for PSG (in all competitions) I'm expecting to see Zlatan's name on the scoresheet probably alongside Cavani's. Whether or not Zlatan Ibrahimovic will earn his spot at the top of the Ballon d'Or list, there is no doubt that Ibrahimovic is conquering France along with Europe with his increasingly amazing goals.

Do you think Ibrahimovic is worthy of the Ballon d'Or? What will it take for him to be worthy? And what about El Clasico? Share your thoughts and predictions below!