Club night ticket – 60 Euros. One single cocktail – 13 Euros. Taxi to the club – 20 Euros. It adds up. If you're going to Ibiza, be prepared to pay big bucks for seemingly little things. 7 Euros for a small bottle of water in Club Space is standard; when you're dying of dehydration and you need more than one sip of H20, it's a downward spiral to bankruptcy. And if you plan to top up your alcohol levels inside the club, have a 20 Euro note at the ready.
Nobody said Ibiza nightlife was cheap. But the charming and beautiful Ibiza Town can still be done on a budget…..sort of.
♫ Ooh, We're Going to Eivissa! ♫
If you want a taste of Ibiza nightlife at a lower cost, give Ibiza Town a go. It's not compulsory to splurge on a big club every single night of your holiday. Set one or two nights aside for exploring more local hotspots and you'll be surprised at what a great Eivissa bar crawl can offer.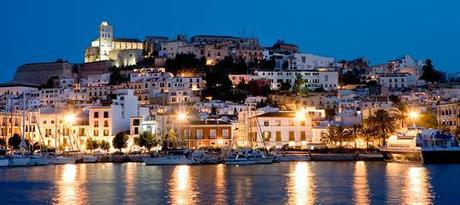 Ibiza Town (Eivissa) is a sophisticated little gem on the White Isle, with a cute little strip of bars and restaurants by the harbor. This is where the grownups are – or so they locals tell me anyway. I tried and tested San Antonio's Ibiza nightlife (the Spanish Kavos), just so I could see it for myself, and I can tell you now, Eivissa is a different world. It's just a different class altogether.
Ibiza Nightlife: Where to Go in Eivissa
Don't be afraid to talk to people about Ibiza nightlife and ask about the best places to go. In Ibiza Town, everyone is friendly and they all have their own opinions on the ultimate Eivissa bar route – the best thing to do is talk to lots of different people and do a little exploring yourself.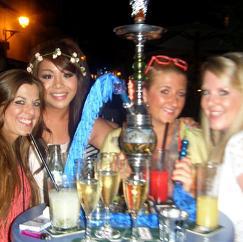 We found a fab little club, which is free entry (pretty much unheard of in Ibiza), called Keeper. It's your typical local bar / nightclub venue with a crammed dance floor and a mix of music that suits everybody.
Everything is located along or close to the harbour, so just get the taxi driver to drop you off by the harbor. If you're staying in Ibiza Town, Talamanca, or Figuertas, you could save your pennies and walk.  If you're hitting Ibiza Town (and I definitely recommend it as a first night warm-up or a last night wind-down), make sure you pop into The Rock Bar and Jason Bull's Base Bar.
Beers are between 5 and 8 Euros, cocktails around 10 Euros (sometimes more), but groups of girls can often get pretty decent deals or free shots and free champagne. Vodka filled sheesha pipes make great alternatives to heavy drinking if you're looking for a cheap (yet fun) head rush, and non-smokers (like my friend, Rachel) will be in sheesha heaven!