The Argentine winger says his family's presence is one of the main reasons he loves life in Newcastle, but also offers words of sympathy to his troubled countryman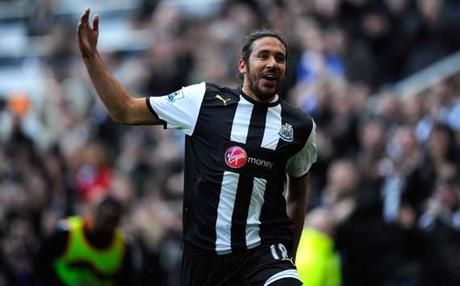 Newcastle United winger Jonas Gutierrez says he loves life in England, but admits he can understand why countryman Carlos Tevez has failed to adapt to the English way of life.
Tevez has repeatedly complained in public about being home sick and missing his family, causing tension between himself and Manchester City manager Roberto Mancini.
The South American winger, who has been a hit in Newcastle since arriving from Mallorca in 2008, says there is no secret as to why he has settled so well and Tevez has struggled.
He told the 
Sun on Sunday
: "My brother is in Argentina but my sister is studying in Manchester and my parents are in Newcastle.
"They came to Spain with me when I was at Mallorca. It's not easy for your family when you leave South America so to have them with me in Spain and now here has been vital.
"I always wanted to play in England but to live in Spain first was the way to go, to make that first step away. The difference between here and Argentina is too great to cope with.
"The weather, the language is all a shock. For Carlos, his family hasn't been around; he has children back in Argentina.
"That is the problem for him. I text him now and then. He's a fantastic player. I can understand why he has had problems though.
"At times it has been hard here for me like when we got relegated. But if you go down you have to stay and bring them back up.
"My family love it here anyway. I can't speak Geordie though. It's impossible."
With his side facing Sunderland on Sunday, Gutierrez added that the Tyne-Wear rivalry brings back memories of the passion generated by the heated derby matches he experienced back in Argentina, albeit without the infamous violence which accompany them.
"I love the passion," he revealed. "The fans don't care if we play well or not. Three points is the aim. It's the same for the players. We know we have to win. Simple as that.
"Everyone I see in the street, all they say is that we have to win this game. But we are confident, even if their new manager has come in and done very well.
"In Argentina the derby I was involved with was Velez Sarsfield v San Lorenzo. It's not like River Plate v Boca but still one of the biggest derbies in Argentina.
"If you lose angry fans will go down to the training ground to complain. Luckily that never happened to me because we got good results.
"People die in South America at matches which just isn't right. The violence is wrong. Fans in England love football the same but channel their passion in a different way."