Hi guys!!! Have you read the Baked Lemon Chicken Recipe I posted last night??? I only ask because it was so good and you definitely don't want to miss out on it.
Anyways… I think I've really angered the healthy gods! Healthy food isn't supposed to be this good! I must be in violation of ancient rules.
I think I might have definitely damned myself to healthy food purgatory this morning with breakfast.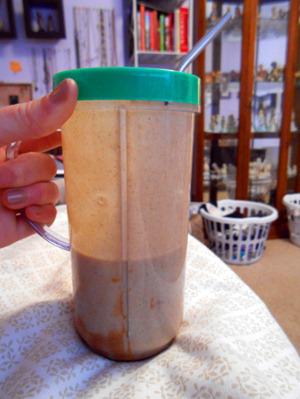 *sigh*
I made… here we go… I can't go back now…an Almond Butter Protein Shake! And holy cannoli it was good.
Here's what I did, I added:
1 scoop vanilla SPIRU-Tein protein powder
1/2 cup water
1/2 cup almond milk
2 TBSP smooth almond butter
1 tsp vanilla
1 packet stevia
Then I shook it like a polaroid picture for like 5.7 minutes straight. It was a homemade Shake Weight and a deliciously wrong healthy protein smoothie.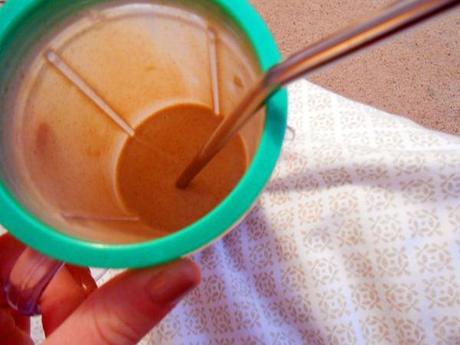 It was so good, it's taking my breath away just retyping the ingredients.
This smoothie has about 350 calories in it and it's delicious flavor is worth every darn one of 'em. Plus it's filled with 100% of all the necessary vitamins and minerals we need and it has loads of healthy fats from the almonds. Total score! I totally kicked your @$$ Healthy Living Thor!
I headed to the office early today so I can leave around 3:30pm to hit the gym. I stopped by the 'Bucks for some added breakfast.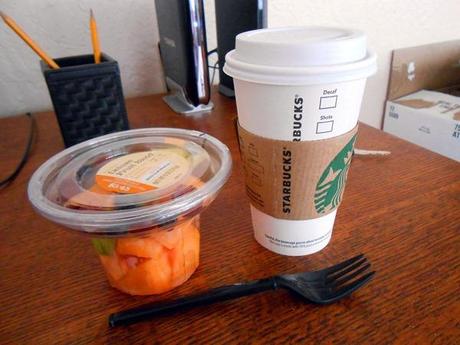 Zen green tea with a stevia packet added and a bowl of fruit. I got my first of two servings of fruit and it's not even 8:30am! Ha. Again healthy food Thor, I beat you! Stay down!!

Tell me about you!!! I want to know…
What is your most favorite fruit?
nectarines
what have you made deliciously wrong lately?
that smoothie… how will I ever get out of healthy food purgatory now?!
is your hair up or down today?
down and natural… it's scary!