This is from my little bin of "it is starting to fall apart, so I will put it away for a later day." LOL I dont put alot of pieces in the big round "bin" because my husband just rescues them for his stash anyways. HAHAHAHA
Anyways here is this weeks project "Rosie"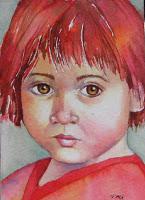 2.5 * 3.5 inch
watercolor on 140lb CP Arches
Click Here For Auction!
Have a Happy Day :)