So, I didn't really want to say I Mother Earth with Edwin as my headline because well, I Mother Earth isn't I Mother Earth without him in my personal opinion. Now that that is out of the way lets talk Reunion show #1 held at the Phoenix Concert Theatre in downtown Toronto on Friday June the 3rd. It was a smokin' hot night outside and the boys of I Mother Earth only raised the temperature inside to almost boiling as they rocked through a 120 min long set.
The night kicked off with local-ish (Aurora based) indie rockers Brothers of North. Now, I showed up about half way through the boys set but what I did see and hear impressed me. With a sound that seems to mix strong melodies with fantastic lyrics. The appreciative crowd rocked out to the original sounds from the quartet, with their heavily guitar laden rock presence. The boys looked comfortable in front of a huge Phoenix Concert Theatre crowd and definitely got things warmed up. The band has been working towards releasing a new album in 2016 and I am sure it will pack a punch.
Then it was time to go back, way back to my college years. I can actually remember sitting at EP Taylor's (Durham College's Campus Bar) one night in March of '97 and having the opportunity to see I Mother Earth cram 400 people into the small pub was an experience. I can still hear the opening song playing in my head ( One More Astronaut) and the crowd breaking into a frenzy while Edwin hammered away on a cowbell. Now lets fast forward 19 years.
Edwin is back in the mix and I Mother Earth is rockin' it better then ever. Friday night marked the 1st show in 18 years that the band had done together. And after a couple months of rehearsals and hard work the boys brought one hell of a show including a lighting rig that made the stage show that much better. From the opening riff of About A Girl the crowd lost it's shit. Seriously, I think every song was a sing along. The place was packed and sweaty but not one complaint from any of the lucky concert goers. As they all felt fortunate enough to be taking in this show.
As the band plowed through a set list that had my mind wandering back to driving around my small hometown of Arnprior with songs from Scenery and Fish cranked like Another Sunday, Used To Be All Right and Raspberry on constant repeat. Hearing the band perform these ones for the 1st time live in almost 2 decades was simply EPIC. They actually sounded better than I could remember. My only complaint and it being a minor one is the lack of Edwin addressing the crowd. After spending the majority of my time hanging around country concerts it just seemed that connection with the audience was lacking. He did say "We Should Do this more often" which received a boisterous But hell, it was the 1st show back and they played for close to 2 hrs. The crowd was eating up every song through out the 17 song set.
My personal favourite from the night was during the encore and when they played Not Quite Sonic off the bands 1st album Dig. And it was the closer that had the crowd absolutely lose its shit! Levitate was rockin' and as you can see the room filled with late 30 and early 40 somethings just bangin' and smashin' as if they were 18 again. I have to hand it to IME for putting on one hell of set. If you are in the GTA you won't want to miss the band close out the Sound of Music Festival in Burlington on June 19th and its FREE so no excuse not to go out and support a killer band and a fantastic event.
Corey Kelly / @CoreyKelly76
MORE PHOTOS...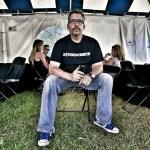 Born and raised in small ltown Ontario, Love me some Whisky & Country Music. Blogger, Photographer and Country Music Junkie.