I can tell when wed­ding pho­tos come out too dark
I can spot heavy yel­low fil­ters and fade effects
Some­times it's obvi­ous the lens flare came from Photoshop
If your flash goes off in the bride's face, I can tell!
Some­times I spot can­dles / trees / lamp posts com­ing out of people's heads when you don't
I see too many heads cut off cou­ples for no reason
I look at how wed­ding pho­tos are cropped — if there's a lone boob on the left of your image, it looks weird!
If you haven't edited your images, I won't blog them
I like a bride and groom to have skin-coloured skin
I look at the peo­ple behind a bride and groom. See that guy scowl­ing? I did.
I want to share really good pho­tog­ra­phy on my wed­ding blog
I want to share real wed­dings to inspire cou­ples — but also to help you pro­mote your wed­ding pho­tog­ra­phy business
Please — new wed­ding pho­tog­ra­phers — edit your images. Check them carefully.
I'm not a wed­ding pho­tog­ra­pher but I see hun­dreds of wed­ding images — and I'd rather blog good pho­tog­ra­phy than bad.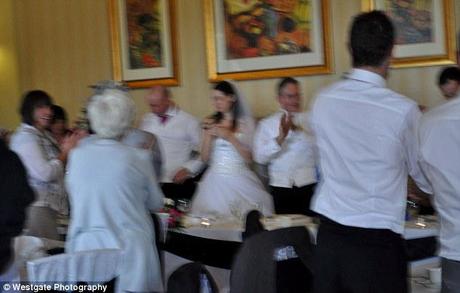 Bad wed­ding pho­tog­ra­phy — image from The Daily Mail
Blogs and wed­ding pho­tog­ra­phy — who's set­ting standards?
I think wed­ding blog­gers are some­times wary of offend­ing wed­ding pho­tog­ra­phers. We work with some of the very best — and I'm proud to share beau­ti­ful wed­ding pho­tog­ra­phy with my readers.
I've seen low qual­ity pho­tog­ra­phy on other wed­ding blogs — pic­tures I could take with my cam­era set to auto. I've seen local wed­ding pho­tog­ra­phers with appalling stan­dards — truly!
While I want to help pho­tog­ra­phers with all lev­els of expe­ri­ence pro­mote their ser­vices here, I'm more care­ful when it comes to skill levels.
As a pho­tog­ra­pher you have to be good to get on Eng­lish Wed­ding Blog.
As a blog­ger I don't want to be respon­si­ble for encour­ag­ing cou­ples to book cheap, untrained, unpro­fes­sional wed­ding pho­tog­ra­phers. I think some wed­ding blog­gers and some wed­ding mag­a­zines are guilty of this.
Is it time we became more con­scious of the stan­dards we're setting?