Hey guys! I can't believe it's already day 4 of my 4 day goal of super perfect healthy eating! And I can say it's done everything I wanted. I never intended my mini goal to actually be "perfect" healthy eating. But I did know that it would be enough to make healthy eating choices the first priority in my mind every day and that I wouldn't sacrifice (well maybe once or twice) as much. I also knew that 4 days would get me uber motivated it keep it up and IT DID! I'm so happy with myself that I think I want to do another 4 day challenge.
Before we get into the next 4 day challenge I have some delicious oats to share.
Breakfast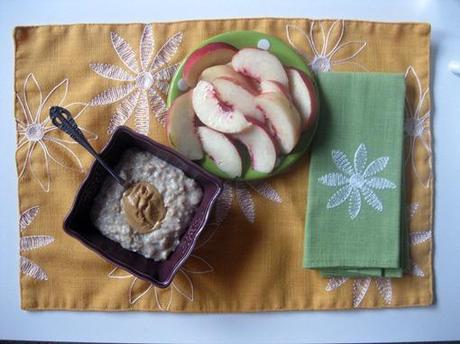 homemade oatmeal with peanut butter and an almost too ripe white nectarine.
I love nectarines they actually taste like summer to me.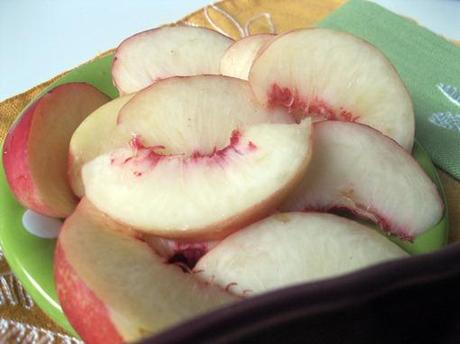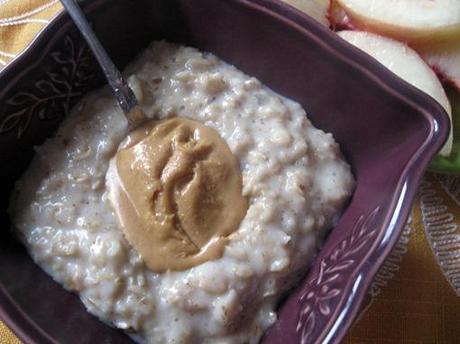 this oatmeal was delicious. I think I actually made a yummy oatmeal creation with peanut butter.
In the mix
1/2 cup rolled oats
1/2 cup 1% milk
1/2 cup water
1 tsp milled flax seeds
1 1/2 tsp sugar
1/4 tsp molasses
pinch salt
3 drops vanilla extract
Top with 1 TBSP peanut butter
My secret is to add the oats, water and milk to the pan (all cold) once everything is added then turn on the burner and heat. I swear it makes the oats creamier.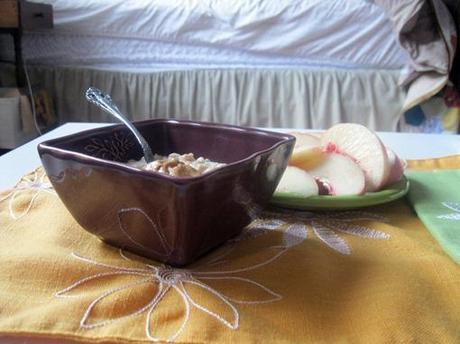 According to My Fitness Pal my oatmeal was  325 calories and my nectarine was 60 calories!
The Next 4 Day Challenge
The last 4 Day Challenge was the "Super Perfect Healthy Eating Challenge" and I did splurge on Monday when I needed something fried and I splurged a little last night with the holy delicious bread of death. But I budgeted for it and got in some fitness. I didn't just have it.