Myself and Manchester had some unfinished business to deal, that 2014 overnight 'dissertation research trip' had me only knowing Manchester's City Centre. With much more to find out over that birthday weekend, I found myself back, back and back again! With a birthday in complete lockdown the year before, I wanted to live my life again! Manchester wasn't getting away lightly!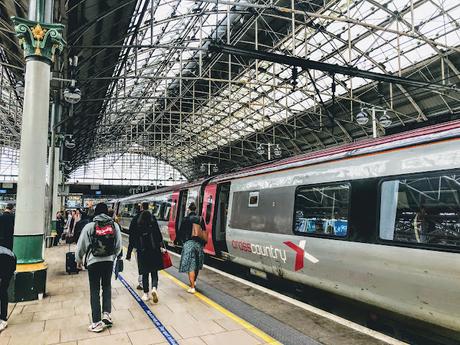 My Crosscountry train service from Wolverhampton to Manchester Piccadilly left my West Midlands departure point, leaving all that I need to say, I wanted it all from Manchester! Breezing down the track in a northern direction had all my plans coming to fruition, eternally grateful to just be out of the house, those station stops whizzed past me. From Wolverhampton, my train passed through Stafford, Stoke, Macclesfield, Stockport and then finally Manchester Piccadilly with no delays present. Alighting my Manchester Piccadilly train felt correct, having those plans happening for real gave me the confirmation that life looked normal in that moment. Taking in those Victorian charms of Manchester's main gateway station, the newer looking glass entrance had me remembering that January 2014 arrival. Yes, those eateries had been uplifted, things certainly looked different through that 2021 view. After a six year absence from Manchester, would I remember the way back to Portland Street? Are you sure? MCR, I was fine! 
Taking a different turning toward Aytoun Street, I had my faith placed in Manchester because without a phone signal I walked on regardless. Being back in Manchester felt amazing, it wasn't Shanghai or Tokyo but I had to remember real quick that I had the chance to experience near normal life once again. Manchester welcomed be back, knowing the clock would be ticking the tock, I walked ever closer towards Piccadilly Gardens. It might sound ridiculous but taking the train again each time really feels like a privilege, counting my blessings I will continually keep the faith. I was already feeling hungry, with a lunch plan already destined for Manchester's Chinatown, I thought it would be wise to drop my bag off at my Premier Inn hotel. Those initial moments spent in Manchester allowed me to recapture those 2014 exchanges. Concentrating on Chinatown, I will be paying that Manchester mainstay mind in the next blog post. Taking the train, getting back to MCR and having that freedom, there was no price tag justifiable. Ta, MAN!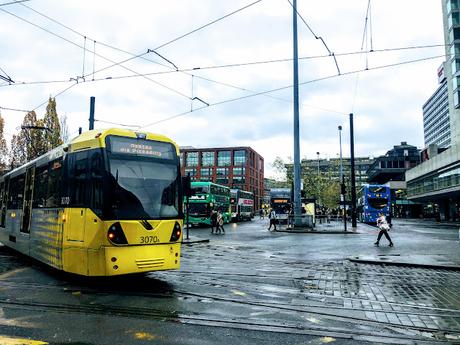 Piccadilly Gardens had kept the same energy, although I wanted no part of the Christmas market. Paying the usual Christmas light no mind, I focussed on the busy public transit interchange, it served both bus and Manchester Metrolink in one view! My inner transport geek had a wonderful time clocking the yellow and gray Manchester trams. I wouldn't be taking a ride on them during that visit but during my first visit in 2014, I took the Manchester Metrolink up to Salford Quays. Just before that 2014 visit, Kylie Minogue had recently filmed the Voice at Salford Quays. I had to see Manchester because of that reference not Coronation Street. During March 2021 in Manchester, RuPaul's Drag Race UK, Series 3 had been filmed in Salford at the Manchester Studios. Those Series 3 episodes would flash a Manchester Metrolink tram during the beginning segment of the show. Of course, being a religious Ru-watcher I had to take my own flash of that scene in Manchester for myself! Manchester done already had herses! Yass, M! 
After that transportation moment, I took a walk through the city center near to the Printworks. With signs for the Arndale centre, I already knew that shopping wouldn't be on the agenda for my Manchester weekend. Getting a few bits from Boots had me ready for the weekend ahead, I hadn't had the chance to take a pride in my appearance for a long while because I just didn't see the point. Having those lotions and potions along with my outfits ensured I would be feeling and looking my best. Being back in Manchester, amongst the buzz of people and the onset of the festive season, that was the perfect reintroduction to city life. Manchester could call me in the morning because that Friday night didn't involve any boozy plans, no way! Genuinely, I got caught up in the city as I walked around those city streets during that first afternoon in Manchester. Piccadilly Gardens served 'Christmas Market Realness' but I cut that festive feeling loose because it wasn't December! Manchester, that Chinese lunch had me feeling ready to rest!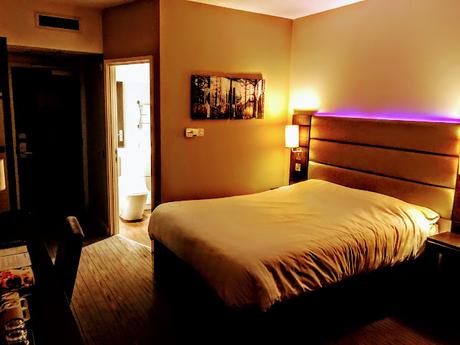 Edinburgh had me staying at a rather nice POD Hostel situation but with a night-out planned in Manchester, those reservations needed to be refined! Yes! Paying through the nose, I maxed out those funds months before that November birthday weekend in 2021. Premier Inn had to be the one, with the guaranteed comforts of a newly refurbished room with its own bath, how could have I said no? Japan, remember I will be making those POD nights happen with much anticipation, there was no shade intended! Yes, I chose to stay in the same hotel which I had stayed in 2014 because Canal Street was just located a short walk away via Princess Street. Manchester's first evening was a sedate one, the room felt warm whilst the night outside was cold. I had no rush to hit the bottle because that conveniently located hotel room would come in handy during that boozy moment. Premier Inn's Manchester Portland Street location might have cost me a price, with that new location I wasn't complaining! M, you're the one who said it! 
Returning to England's northwest capital had me feeling good, back in MCR was the choice to make up for 2020's poor excuse for a birthday! The cheek of Miss COVID-19 to keep me locked down for that milestone 30th birthday, how dare she ever try me again! No, she better don't! I kept my expectations low, I stuck to the streets that I knew before and kept the same energy. With a triple blog odyssey set for the following day, my first night in Manchester kept things quiet, the room rate would need to be justified with an early night. Making use of the complimentary in-room Wi-Fi, I ensured my Royal Leamington Spa blog was published and done! Manchester felt right, those second chance sightings had been dealt with kindness and a level of appreciation. Premier Inn, what happened to those borders reopening? Those 2021 prices had me pinching pennies elsewhere, I'm only joking because that paper had been stacked well before that November 2021 weekend! Back, back, back again in Manchester, England! Yes!
Shantay, You Stay! 
Joseph Harrison