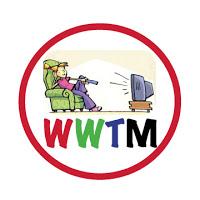 THE ANSWER TO THURSDAY'S TRIVIA QUESTION: Uncle Jesse and Frank Underwood=Full House of Cards!
FIRST FIVE: Heather Doyle, Stefan Strothmann, Elke Raskob, Mike O'Dea & Alex Nagler
HONORABLE MENTION: Nancy Oboyski

THE NUMBERS
Friday's Cable Top 5
NBA Playoffs 11p-ESPN 1.7/3.6
NBA Playoffs 8p-ESPN 1.1/2.7
WWE Friday Night Smackdown-Syfy .8/2.6
American Dad-Adult Swim .7/1.8
Modern Family-USA .7/1.5
Sunday's Broadcast Top 5 Once Upon a Time-ABC 2.1/6.9
Family Guy-FOX 2.1/3.9
Resurrection-ABC 1.9/7.4
The Amazing Race-CBS 1.9/8.5
America's Funniest Home Videos-ABC 1.6/6.4
Sunday's Cable Top 5 NA
Sunday's Top 5 Nielsen Twitter Ratings
The Real Housewives of Atlanta-Bravo 214,000 Tweets 
Game of Thrones-HBO 97,000 Tweets
2014 Radio Disney Music Awards-Disney 73,000 Tweets
Cosmos-FOX 37,000 Tweets
Mad Men-AMC 27,000 Tweets 
Top 5 DVR'ed Shows for the Week of 4/7/14-4/13/14
The Big Bang Theory-CBS  From a 4.7 to a 7.2 (+53%)
Grey's Anatomy-ABC From a 2.6 to a 4.5 (+73%0
Scandal-ABC From a 3.0 to a 4.8 (+60%)
Marvels Agents of S.H.I.E.L.D.-ABC From a 1.9 to a 3.4 (+79%)
Criminal Minds-CBS From a 2.3 to a 3.6 (57%)
-I'm guessing that everyone has the same issues on Sunday as I do. We all don't know what to watch live and what to DVR. I really thought people would watch Mad Men live, but that's not happening. The 2nd episode of Mad Men saw significant lift when looking at the Live +3 numbers. There was a 74% increase in total viewers and a 110% increase against A18-49. I'm guessing they're all watching Game of Thrones or The Good Wife. What'd ya think?

THE SHOWS
I spent the plane ride home from Vegas and all of Monday Night catching up on shows and I'm still not done. I watched Hart of Dixie, Vikings, and The American's on the plane. When I got home Sunday night, I watched Game of Thrones. I couldn't go to bed without it. Then I couldn't fall asleep so I watched Flipping Out. When I got home last night, I watched 2 episodes of Joan & Melissa, Orphan Black, Nurse Jackie, Vampire Diaries & Reign. COME ON that IS totally impressive especially since I worked a full day. I still need to see Resurrection, The Good Wife and John Oliver's premiere. Too much to review today. I promise to be back on track tomorrow.  The only thing I will say is...Game of Thrones...the grandma? I def got that wrong. Lord Baylish was in on it, but he wasn't Joffrey's killer. Oh and...how sad was it when Brienne left Jamie? Oh and Bran's eyeball rolling thing is nuts too. Oh and Jon Snow is going to get that guy right? I hate him. Oh...of course KHALEESI rules. Ok...I got that all out of my system.
THE OTHER STUFF
-Here's a tip for any Scandal cast members…don't beat your wife/girlfriend/partner or you'll end up dead. On the show that is. Columbus Short, the actor who played Harrison, got shot in the season finale but we weren't sure if he was really dead. Spoiler alert over, cliffhanger no more. He IS officially dead and won't be returning to the show. I guess Shonda has a no tolerance policy.
-We didn't get to discuss the Parks and Rec season finale. The big "thing" was that they flashed forward 3 years. The triplets are 3, Leslie's the head of the National Parks Department and she's sporting bangs in 2017. They're already starting the "rumors" that next season is the last season. I hate to say this but I hope it is since the show def jumped the shark. Lets shoot for a shortened season where they can go out the way the came in and make things right again. - First Sound of Music and now…Grease! One of my favorite movies of all time. FOX is going to broadcast a live performance in 2015 and I am totallllly psyched. Before I even looked at Twitter or Facebook or anything, I thought of Zac Efron for the role of Danny Zuko. He can sing, he can dance and he'd look amazing in those beach scenes wouldn't he? Now…who should play Sandy? Taylor Swift maybe or Dianna Argon from Glee? Any ideas? I honestly can't think of anyone BUT Zac Efron for the John Travolta role. 
-The Red Road on Sundance was renewed for a 2nd Season. I am DYING to watch Season 1 of this show. Has anyone out there seen it? If you grew up in Northern New Jersey, you may have heard stories about the Jackson Whites. They're a group of albino Indians who live in Northern Jersey. They've always freaked me out and Drago from Game of Thrones (who's also married to Lisa Bonet) is in it. I can't seem to find Season 1 anywhere but maybe Sundance will run a marathon or something. I think we all need to get on this one.
-Sorta had a feeling that once David Letterman said he was retiring,  Colin Ferguson would get the ax and...I was right. CBS isn't renewing he's contract, so now there's yet another late night spot to fill. I am pretty sure I've never watched one episode of Colin Ferguson so no clue if he was good or what. I'm begging CBS to fill that spot with anyone but an older white guy in a suit. PLEASE take a risk, do SOMETHING different. ANYTHING! Just not another white guy in a blue suit. 
-I used to have a girl crush on Gwyneth Paltrow. Don't judge, I came to my senses and now it's all about Emma Stone for me. Here's another reason to love this girl AND my FBFF. I think my head would explode if Emma AND Jimmy slept over. This is what we would do after our snacks and TV watching...KARAOKE! Here's last nights battle: http://www.nbc.com/the-tonight-show#segments/4951
-Completely unrelated to TV, but I have to urge you guys who have SiriusXM to check out the 3 hour Town Hall interview/event Howard Stern did yesterday with Billy Joel. It was truly brilliant radio. I've listened twice already and they are going to re-air it 5x on Thursday. Howard was amazing, Billy was amazing and some great guest appearances and performances that will blow your mind. Pink, Boys 2 Men, Tony Bennett, Idina Menzel, Melissa Etheridge all just kicked ass. If you don't have Sirius, get it or use someone's log on to check it out. I hope Howard broadcasts it somewhere so that everyone can see how amazing he really is. Just awesome. 
Tuesday's Trivia Question: Since last week was a short week, I'm continuing with the theme...Tootie & Natalie/Corky & Becca
WWTM-Kristy Like me on Facebook at Watching Way Too Much
Follow me on Twitter at watchingwaytoomuch@tvnme
http://watchingwaytoomuch.com
kristy@watchingwaytoomuch.com