Online Window Shopping:

What I have My Eye On
It wouldn't be Christmas without the masses of sales, promotions and constant bombardment of newsletters from our beloved retailers, so naturally I've built up a rather long list of items that I'm currently lusting over. With the rain becoming constant background noise this week, I thought it was a perfect excuse to sit by the fireplace all day, Galaxy orange hot chocolate (40 calories per cup!) in hand and put together a little post to show you all what I would love to see under my tree - or in the wardrobe, ironed and hung up neatly if Santa's feeling generous -  on Tuesday morning.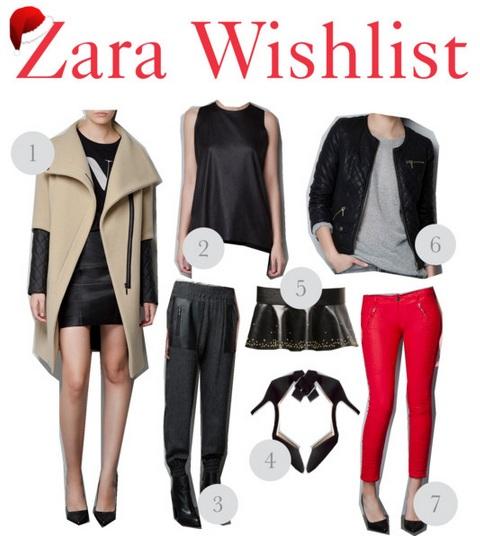 First up, it's a pit stop at Zara. Naturally. I don't think I could live without Zara these days. Items 1, 3 & 4 are on my list of definite buys with my Christmas money; if I could stretch it I'd buy everything on the website to be fair.
1. Woolen Coat With Quilted Leather Sleeves
2. Leather Effect T-Shirt 3. Herringbone Trousers With Zip Pockets 4. Basic Ankle Strap Heels 5. Studded Peplum Belt 6. Quilted Leather Jacket 7. Red Coated Biker Pants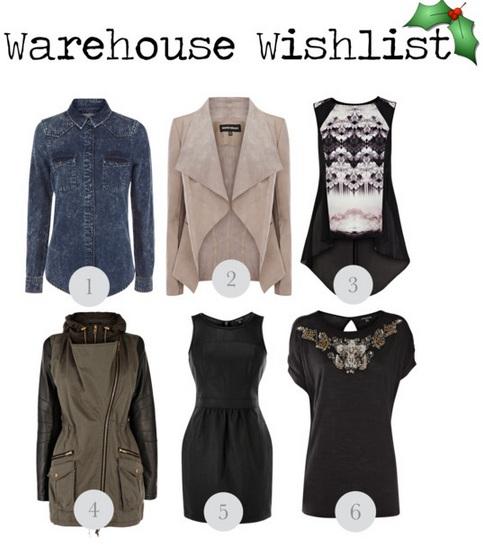 Warehouse are a retailer who surprised me actually. I've walked by their stores in Newcastle recently and felt that I've wanted quite a few of the outfits they've styled together in their displays, so when I had a little peak at their website I found myself mentally taking note of some of their stock. Have they always been this edgy, or have I only just noticed it now? 
1. Acid Wash Western Shirt 2. Soft Leather Pocket Jacket 3. Butterfly Tribal Print Tunic 4. Contrast Sleeve Parka - LOVING this! 5. Mesh Panel Faux Leather Dress 6. Beaded Neck Tee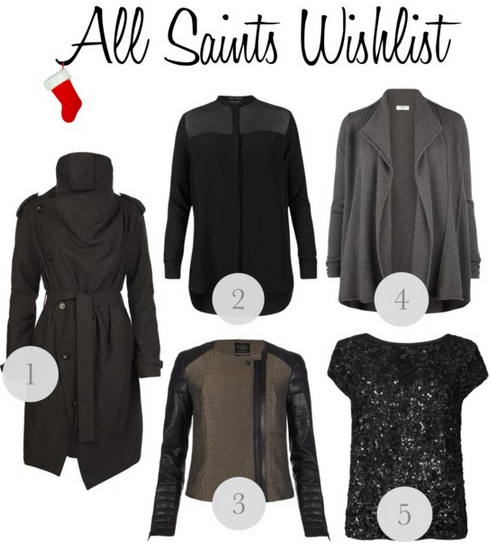 Don't take my word for it, but I'm pretty sure every item I've listed from All Saints is currently in their sale? I know that the majority is anyway! All Saints isn't really everyone's cuppa tea, but I'm attracted to the whole dark, mysterious and slightly gothic personality of the brand so I can't help but lust after a few items every now and then.
1. Saredon Trench Coat 2. Joelle Shirt 3. Abel Leather Jacket 4. Elva Cardigan 5. Restrain Tee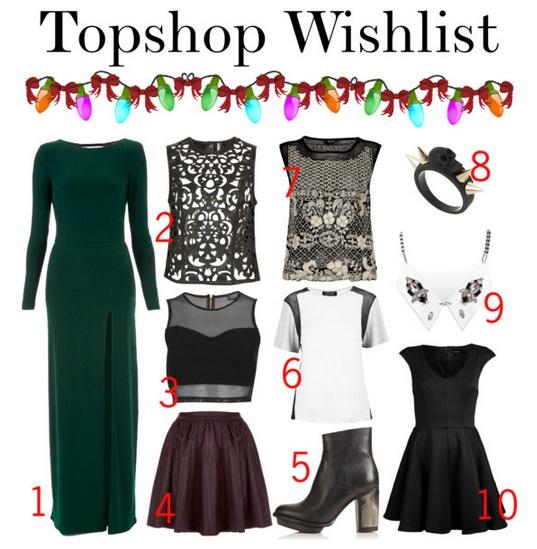 It might be fair to say that Topshop and I have a love/hate relationship. I went off the brand for a while, purely because of how mainstream it had become (GEEK jumper for example. If I see that on one more person I may lose faith in street style) - that and it's prices just kept getting higher and higher and my poor student loan was crying out for mercy. I will admit though that their collections recently have been stunning and I've found myself typing Topshop.com into my web browser more often than not.
1. Shoulder Pad Maxi Dress 2. Cutout Leather Shell 3. Rib Panel Mesh Crop Top 4. Oxblood Full Skater Skirt 5. Pallette Premium Met Boots 6. Mesh Insert Colour Block Tee 7. Heavy Embroidered Mesh Tank 8. Skull Spike Ring 9. Perspex Peter Pan Necklace 10. Ribbed V Front Skater Dress


Happy Shopping! xo