How many times have I said that? Too many to count.
Just about two months ago, I wrote a similar post about eating my words when we bought our mini van.
So anyway...
Baby J needed back-to-school shoes. I like shoes. A lot. But I really don't like character shoes for kids or shoes that light up. So, I ordered a really cute pair of Simple shoes from Amazon. They were on sale. I got free shipping and they are really stinking cute. They are sneakers but can double as dress-up. They have a funkified saddle-shoe vibe. You can see them here.
The dude, however, was NOT as excited about them as I was. He has been living in Crocs this summer and prefers to wear them year round but I digress...
Because these shoes were a wee bit on the pricey side for kid shoes ($30) and because I want him to be able to wear them for dress, I decided to take him to get a pair of cheapy sneakers for rainy, yucky days on the playground. So, off to Target we went...
And what did we come home with?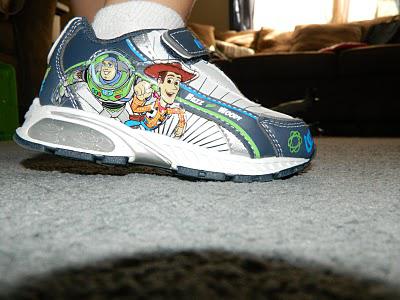 Yep. You guessed it. Character shoes that light up.
And they are worth every penny. He is IN LOVE with these shoes. He's been putting them on the minute he wakes up, stomps around the house all day long to make them light up, and isn't taking them off until bed time. He even asked me if he could sleep in them. In case you are interested, the answer was, "no."
I have a feeling I know what Baby J will be wearing on his feet tomorrow morning for his first day of school and it won't be the super cute, slightly pricey Simple shoes that Mommy loves.
You would think I would have learned by now to stop saying, "I'll never..."