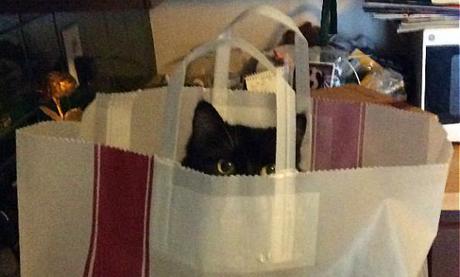 …and she is peering at me from inside a shopping bag.
Meet Bandit. She's one of our cats. But she's much more than one cat.
She's a cat who thinks she's a dog and hangs out with them, who's near 10 years old and refuses to stop being a kitten, who likes to act crazy but really is diabolical and because of that has devoted her entire freakish feline life – nearly every waking minute of it – to pissing us off because she thinks it's funny.
Other than that she's perfectly normal.
I'm watching her right now, doing yet again what she truly believes is perfectly normal. She's chewing a handle on one of those cheap grocery plastic bags. Inside the bag is a pair of my wife's shoes – sensible pumps, mid-height heel, nothing sleazy.
As she has done 3.89 million times before, Bandit will chew through one handle. Not both, never both. When she's done she'll go across the room and settle into some nice little niche. And wait. Until my wife tries to pick up the bag and finds it only has one handle.
Possibly with furry trepidation, she awaits my wife's stamp of approval.
"Dammit, Bandit!"
Her work is done.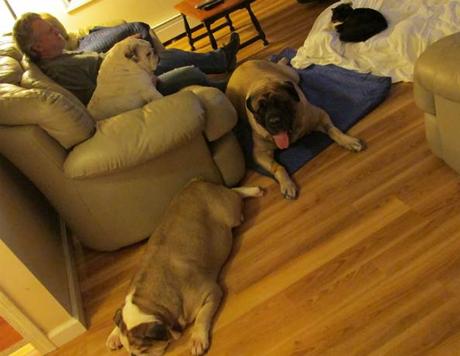 A moment in the Waterman living room. Notice Bandit, at right, lounging on a large pet bed and that the three large dogs have given it over to her. They know better. Also notice the mummified corpse on the couch. He passed away in 2003. But the dogs liked him and we've not the heart to remove him.
"Honey, wake up." It was my wife and a friend by the bedside.
"Huuuuuh?"
"We-were-driving-downtown-and-we-saw-a-box-by-the-road-and-we-stopped-and-looked-into-it-and-guess-what-there-were-six-little-kittens-in-it-and-somebody-must-have-just-thrown-them-there-can-you-believe-how-cruel-some-people-are-so-we-couldn't-just-leave-them-they-all-were-crying-so-we-grabbed-the-box-and-took-off-and-can-we-keep-them-please-oh-please-oh-pleeeeeeeease?"
"Where's the box?"
"In the kitchen."
Game over. I went back to sleep. Once one stray animal or six stray animals get inside my house, they never leave. But don't blame my lovely wife this time – it was my fault. I fell asleep. I let my guard down. I should have known better. Now you know why I constantly drink coffee.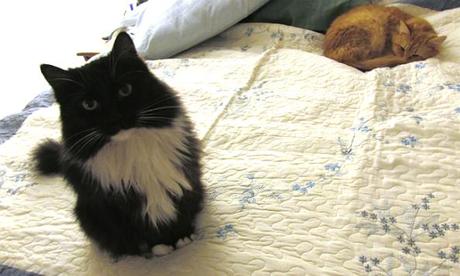 Bandit doing her best to look … normal. But do notice Emma, at right, fast asleep yet with both eyes still open. She knows better. Bandit is waiting. If Emma's eyes close, Bandit will transform into The Demon and attack.
wants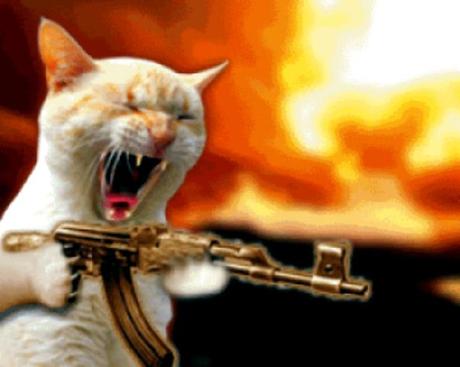 One thing you can pretty much bet will never be in my house is a gun. Need I say more? I thought not.
She's also named Bandit because we thought she was a boy. Found out different when she went with the others to the vet. Cat's been screwing with us from Day 1.
But while life has been no normal picnic since Bandit's moved in, there are some moments of triumph for us human folk. Well, at least for me. Like when I'm shaving in the bathroom and Bandit jumps up on the sink. One reason is to get in my way but if that's not enough to rile me she'll go into "bad cat mode", triple-time.
She honestly becomes almost frantic, looking around for something bad to do to get my attention. She might try to knock off my shaving cream can – only I've put it away. She pulls on the strings of my hoodie – only I've taken it off. Her last gasp? She starts pulling and chewing on my toothbrush, sticking out of the nearby canister.
"Good Bandit, that's your mother's toothbrush. Go right ahead and chew it." And damn, with demonic abandon, she'll start chomping on the one next to it.
Reverse psychology – works every time.