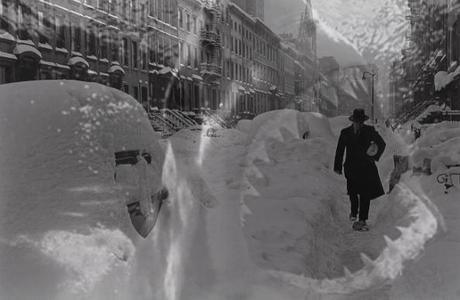 When I worked at a newspaper, we used to call big snowstorms "White Death." Well, at least I used to call them that – run around the newsroom exclaiming "White Death is coming! We're all gonna die!" and the other editors would roll their eyes and tell me to shut the hell up.
Who'd have thought censorship would run rampant within the very bowels of red-white-and-blue journalism itself. But I saw it – I was there. You'd think I was running around yelling "Fire!" in a crowded movie theater or something. Sheesh.
Anyway, we suffered another pretty substantial snowstorm yesterday, the latest in what's becoming a long string of snowy misery not just in my part of the country but in many regions of the nation. Just ask Georgia and North Carolina if you don't believe me. Oh, I forgot. You can't. They're all frozen stiff in their cars on the interstates.
White Death strikes again, southern-style.
So, in lieu of anyone else still alive to tell the tale, allow me, as a lifelong resident of The Land of Ice and Snow (a.k.a. White Death), to offer some advice on the best ways to dig oneself out and keep at bay the "I-Have-Seen-The-Devil-and-He-Is-White-Death-and-He-Is-All-Over-My-Freaking-Driveway."
First, for one to successfully survive, one first must know how to successfully succumb. And then not do that.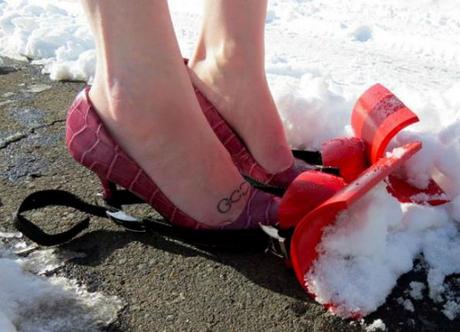 Stylish? Yes. Effective? Pitifully, no. That is unless you are attacked by White Death once … a decade.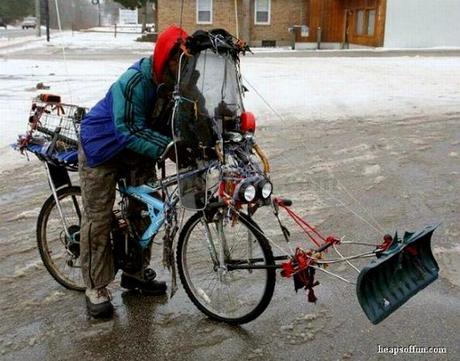 Judging from the exceptionally "busy" amount of gadgets, doo-dads and add-ons applied here, creating this White Death weapon obviously took much thought and work. Unfortunately, too much thought and work. Poor man hasn't anything left to actually fight the battle now. If I'm not mistaken, the cage-like apparatus on the back may be a variant of the old coal-mining canary-in-a-cage warning system. If you see your canary frozen, you're about to be frozen. Verdict: Dead.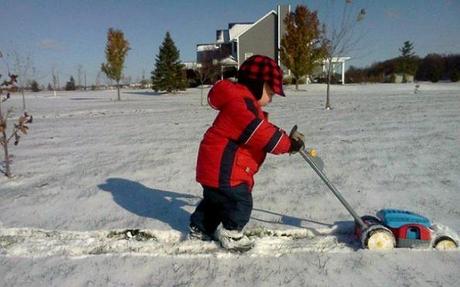 Sigh, another nice try. But you know what they say – the family that mows the snow together … dies from White Death together.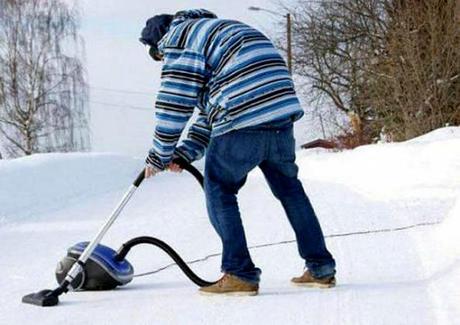 Ah, God bless the man who happily helps with the housework around his humble homestead. For him there's reserved a special place in Heaven, far from the White Death that claimed him – called the Beach of Perpetual Warmness.
Alrightie – so we now know how not to battle White Death. But there's got to be a way to fight and live to see another snowstorm, right?
A couple, actually.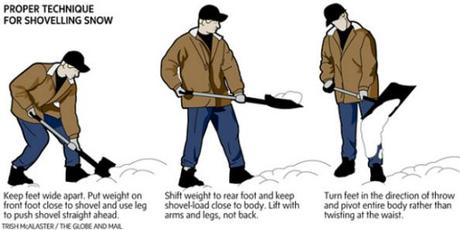 NO, NO, and another NO. You didn't really think I've strung you along all this way for this???? Good, you had me worried there for a second.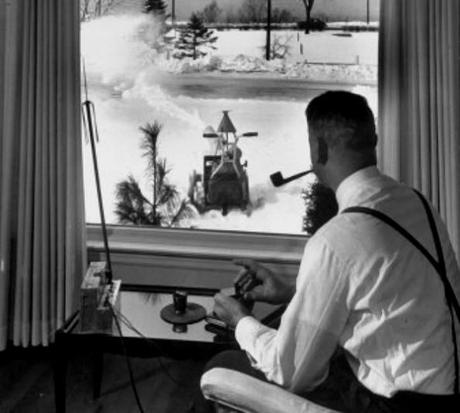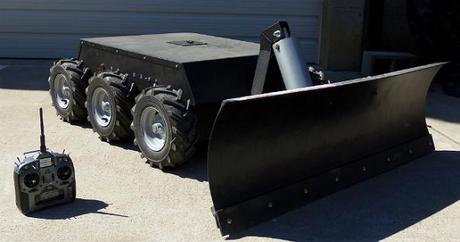 White Death can't kill what it can't get its frozen little hands on. Brought to you by Superdroidrobots.com, let me introduce you to my little friend – the Custom RC 6WD Robot with Snowplow. Absolute brilliance-in-motion! I can feel White Death cringing.
Sadly, cringing only for a moment. Alas, Mother Technology's answer to Mother Nature is … out of stock. Even at $8,500 apiece. But you can get your orders in now for next winter.
Yes, I hear you. Next winter?!?! Next winter?!?? How do we survive to next winter!?!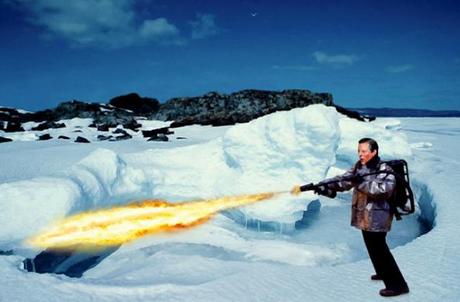 Yup, that's Al Gore. Screw global warming. This is war.