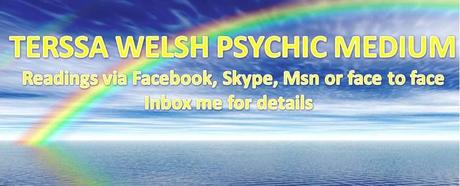 I have had a spiritual reading and my cards read by the very talented Terssa Welsh who is a psychic medium.
It is a very personal reading but as I share my secrets and fear with you all here on the blog, I thought you may like to read what the future holds for me too.
As I start to do your reading I have a gentleman stepping from the spirit world and before he passed over to the world of spirit he suffered within his chest and lung area, he is telling me that he had breathing difficulties and that his body filled with fluid and also his chest was were the condition was the worst, he is making me aware that he suffered for 8-9 weeks leading up to his passing with this condition, but it was a condition that had been with him for a while but the worst of it was during these times, now when we go over to the world of spirit, our conditions are gone so please know that this gentleman no longer suffers with this condition and is healed
Now as he draws near he tells me the last 5-6 months have been about change for you, you have overcome a lot within your life and dealt with many personal challenges but the last 5-6 months you have been working hard to overcome so much, there have been plenty of opportunities he tells me and I can see you being vocal and also helping others around you by communication in some way and he is telling me that he is very proud of you for this, because this has been one of your biggest fears, because of your confidence and also how your health has affected you, but you have pushed through that and are making a stand and the last 5-6 months he says you are starting to see the work you do pay off.
He tells me also that there has been 3 or will be 3 opportunities there is 2 with travel and also I feel either a show of some sort or discussion okies and he says take the opportunities given,
Now there is a celebration coming up he tells me okies and I can see 8 of you all together celebrating and this is coming up within the next 9- 10 weeks he tells me
He is bringing in the upliftment and brightness for you because, he says even though you have been working really hard you also have been feeling it the last 6 weeks more than ever, so he wants to bring this in for you, he says you have decision to make please about either a change of location or change of home please I can see there are discussions that will or have taken place here he is also making me aware that there has recently been someone stepping back from employment because of situations around you but he wants me to say this has been for the best because of the current changes going on and he wants you to know this so please be aware of this also coming up.
He gives me the months of august, September, may, july and march as birthdays anniversaries or anniversaries of people passing to spirit in the past and he also is telling me middle of 12-18 november for something special okies..
Please take the love of this gentleman and know he is around you… also listen to the financial advice you have been receiving because you have someone around you who is very good with financial advise and figures etc and know what they are talking about and he laughs and says this is a gentleman.. and that he is going to be great and can handle everything.
I am now going to do your card reading for you
You first card is peace of mind
This card is all about you needing reassurance at the moment that everything is going to be ok for you, you are carrying a lot of anxiety and appear to be taking a leap of faith this card is letting you know that you can have that peace of mind and know that all is going to be ok, I also feel within yourself, you have been getting to know yourself more and more, you do not have a lot of personal time for yourself but over the next 2-3 weeks I want to say to you that you will be focused a lot more on you and that you can also have a time to rest some, have peace of mind that all is going to be ok and work out for the best here.. you are getting stronger and also moving forward. There is news also that is going to help you get even more stronger within a situation/Area that you have felt you needed it lately
Your next card is higher consciousness
This card is all about that you have been asking for help and this is sending out your thoughts you have gone through a period of feeling a little low and not knowing the answer and you sent our thoughts this card is to reassure you that your call was heard and you are receiving help and guidance from the divine over the next 8-10 weeks you will start to see the way you feel lift a little and also I can see you working hard to overcome the way you feel.. there is also news with this card of an opportunity for you or someone close to you ok.
Your next card is problems resolved
There has been a situation around you at the moment that you have felt swamped in and that there has been words spoken and communication said that were not true and this has left you feeling a little worried please know that this problem is also being resolved for you and that you do not need to worry about this as time will take care of it, Also there is documents and paperwork that need signing and i am also seeing there is some sort of financial paperwork that has either been delayed or needs relooking at and this will also help with the financial side of things coming up for you to.
Your next card is follow your dreams
You are about to go on a journey and one that you did not think you would ever be able to do and this card is all about you taking that journey and making that step, I feel this is the first of many and it is now time for you to follow your dream.. you have worked so very hard and now things are paying off for you, there is opportunities and doorways opening for you here so follow your dream and don't look back is the advice.. I feel you are or will be a great comfort to many through these opportunities and also the communication that you will give, I see November, march and may for these opportunities also.
Your next card is quiet time
And this is about you needing it, you have been juggling so much, and trying to keep up with everything but you have also forgotten to take a little time for you, this card is telling me that this is the right time now for you to have some quiet time and re collect your thoughts there are lots of changes going on around you and you need this time to regain energy and also focus so time for you to have some time for you and I want to say the next 2-3 weeks again here for you, and please do not feel guilty about taking this time, the card tells me you often will worry about to many things but everything is under control so take the time needed. You need to recharge properly
Your next card is miracle healing
You are getting stronger and also receiving healing from the divine/spirit world but also I want to say with the changes that are going on around you.. you have began to get much stronger, I can see you are opening up and starting to travel further afield and at one time you would not want to go anywhere at all now you are making those changes, so you are already healing.. I feel that the next 5-6 months you are just going to get stronger and try lots of things that you used to do. Know that you are receiving healing
Your next card which follows on nicely from the last one is awakening your true self
You are a confident person, but you do not let it show sometimes, but with all this that is happening for you you are start to see yourself for the person that you are.. you are awakening and looking and getting to know you, you are making changes and it has been a long time coming for you, because as the earlier card said you take very little time to focus on you, but you need to now because this is important for you.. you are seeing what you are capable of and you are using this to help others but also to see yourself and what you want out of your life.. I am seeing contracts being exchanged and signed here and also shaking of hands which means again wonderful news for you.
Your last card is rise above problems.
When we feel negative we tend to not be able to see clearly, this card is all about you focusing now on whats ahead of you and all the wonderful steps you are taking, do not look back and sometimes this is easier said than done but this card is saying what has gone has gone, and now there is only one way to look forward.. with a positive mind and know that you are getting stronger, you are going to take these opportunities and there is reason to celebrate.. success, new location/home and also contracts being exchanged.
If you would like your own reading doing then you can contact Terssa Welsh directly. 
Disclaimer*
Before I do you reading I must tell you that I am not a doctor and cannot diagnose, I make a connection with spirit for you, I cannot promise a specific person to come through for you as I do not call spirit they come to me.
Any medical advice given to you by your doctor should not be ignored. I have to tell you by law that all readings are for entertainment purposes only.
During your reading you may receive messages from people in spirit, please bear in mind your family goes back in generations,and even though you may have not known them they know you. I  do appreciate you want to share you're reading with others, however these are spirit words to you only and can be very personal