It would be hard to miss that London is hosting the Olympic  Games this year.   It is mentioned daily in the papers and the news, whether it's TV or radio.   The build-up has been going on for what feels like months and I, for one, will be quite pleased when it is over.  I am suffering from Olympic overload before it has begun.
I am not a sports person, although I do watch the Men's Final at Wimbledon, and I will not turn down an invitation to a 20:20 Cricket match – that's exciting cricket because it is short.   I have even been to football games.   However, I doubt very much that I will spend from 27 July to 12 August watching the Olympics.   I am not one of the excited many who have tickets to watch in person, actually I can't think of anything I would like least.
As for the Olympic Torch Relay, the excitement and media hype has left me cold – until today.
The Torch reached Crawley West Sussex this morning, which is where I work.  As I left the railway station just before 9:00 I was swept up by a group of people from work who, along with the crowd, were heading towards the town centre to "watch the Torch pass by".   It was not my intention to stand on the roadside but I felt too embarrassed, and churlish I suppose, to turn them down and head speedily towards the office.
We walked en masse towards the route and stood expectantly for about 10 minutes, before a cheer rose in the crowd and faster than I could blink, let alone position my mobile (cell) phone, the Torch passed in a flash.   I was waiting for some sort of introductory fanfare, or the herald of its arrival, but because  where we chose to stand was part of the precinct no vehicles were with the runner.
It must be something to do with mass hysteria, but I did feel a sense of excitement and yes, I will admit to even a lump in my throat and I felt as though I was going to cry.  How mad is that?!
When I got to work convinced that I had failed to capture the Flame on camera, I was pleased to find that I did have a photo, albeit it a tiny dot just to the right of a head of hair.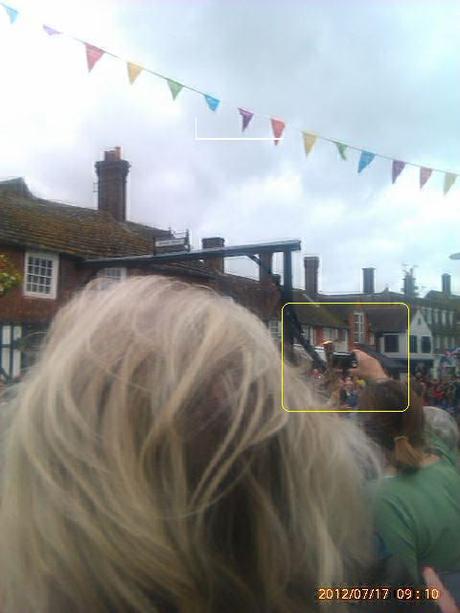 The idea of transporting the Olympic Flame via a relay system from Greece to the Olympic venue began in 1936.  Since the 18 May, when it arrived on our shores, it has travelled through over 1,000 villages and cities.  Historically the route symbolises human achievement and the 8,000 torch bearers chosen are inspirational people nominated by someone they know.
There were many photographs of the Torch Relay this morning published on our work Intranet.  One summed up the pride of the chosen runners.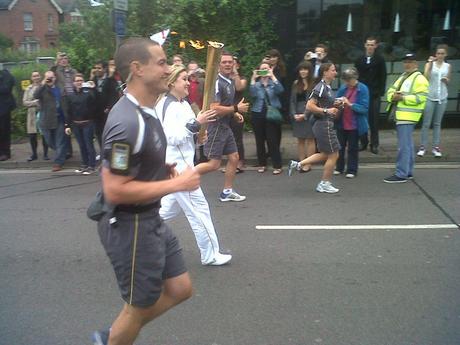 I don't know the torch bearer's name, or the reason for her nomination but the look on her face says it all.
I still won't be glued to the television during the Games, but when I am an old lady I am glad I will be able to say "I saw the 2012 Olympic Torch".