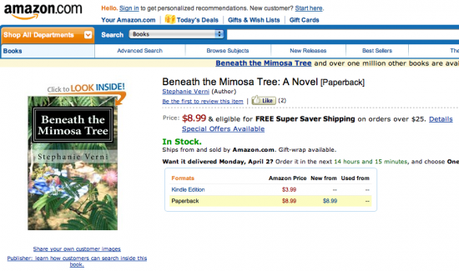 Such a big thrill for me! Click on the image to go right to Amazon!
* * *
This was a big week for me. For the first time in my life, I can say I'm an author. I've written a book. I've endured the anxieties that come along with self-publishing, and miraculously, I'm still standing. It's been a week where sleep has meant very little, but my friends have meant a lot.
Launching one's own piece of writing is a test. It's truly a test of one's own nerves. I've asked myself if I have the gumption to subject myself to criticism and opinion when the writing and plot of my book are dissected. I've got to have thick skin; it's true. If I don't, I'll never make it as a writer. (Or anything else in life, for that matter, if I'm unwilling to give it a try!)
But what was overwhelming this week for me was not launching it. That part was pretty easy. The overwhelming part was how responsive my friends, colleagues, and family members have been with regard to the book. Friends have reached out and said, "We can't wait to read it!" They've posted my announcements on their Facebook pages and pinned to my book on Pinterest. They've talked about it and passed along the word to others. I've been on a high all week. I'm so thankful. I truly am.
And guess what that does? It makes me want to work harder the next time I put something out there because I'd never want to let them down. I couldn't have gotten to this point without my support system. My Facebook friends have been amazing. I'll be forever grateful.
The most fun has been watching the book move around on Amazon's "Hot New Releases" area under the 4-for-3 category. At one point, I hit #10 under "general fiction." When I saw Nicholas Sparks was at #1, it was the biggest thrill. In that category, I was only nine behind him.
That's all well and good and loads of fun. At this point, after all the stress, I should be allowed to have a little fun with it. And I do intend to enjoy it now. However, I've learned a very valuable lesson this week. It's quite simple, actually, and it comes in the form of a song. As the Beatles said, "I get by with a little help from my friends."