So a few months ago I started to panic because I hit pan on my boing concealer, but it wasn't until two days ago when I had to scrape around the sides of the pot that I really started to worry. No one wants to see my face without that stuff… if I could unsee it I would.
So I took myself off to Superdrug yesterday in search of a new concealer. I can't afford another Benefit one so my mission was to find one that would do the job, although I didn't think for one second that I would find one that worked miracles like Benefit's.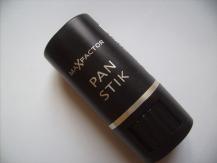 BOOM! Say hello to my new best friend. This stuff is amazing. It's like Maxfactor have bought a load of Boing, smushed it all together and stuck it in this little tube of joy. It works so so well.
I think there's quite a few to choose from but my Superdrug only had 3, so I bought shade 13 – Nouveau Beige as it matched my skin best, obviously. On the display they had a sign saying that it was heavy duty concealer, which is why I picked it up, but on the back of the tube it actually says that it's a foundation?! I'm not really too bothered which is true as I'm going to be using it as concealer anyway.
I seriously recommend this product and at £6.99 it's way more affordable than Benefit's boing. I'm definitely sticking to this baby!