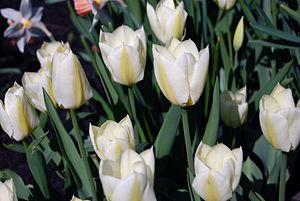 White tulips (Photo credit: Wikipedia)
Today's quote is a good call to action and was made my Theodore C. Speers, D.D.
"How to forgive is something we have to learn, not as a duty or an obligation but as an experience akin to the experience of love; it must come into being spontaneously." –
We can do if we practice it – Forgiveness
When someone asks you what happened with a hurtful situation – think about how this feels:
"Oh them… I forgave them."
What a wonderful thing to be able to say!
Remember you create your day by the way you think. Make it Magnificent!
Blessings, Shawna