I always love a bride who wears her glasses with pride too, and I think Anna looks amaz­ing. There's every­thing here: a won­der­ful story, some fab­u­lous ideas and details, and of course the lovely pho­tos by Manchester's McAvoy Pho­tog­ra­phy.
Enjoy!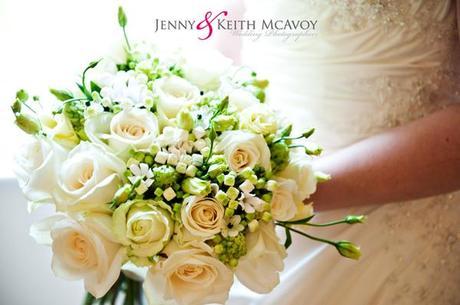 Anna and Mike's Man­ches­ter wedding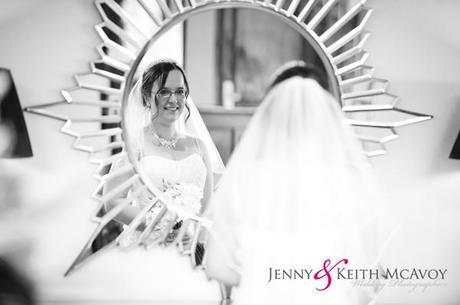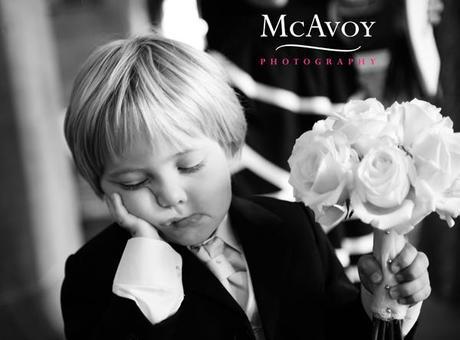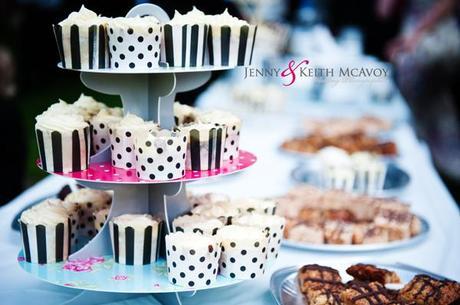 I loved it! In every photo I am smil­ing – I don't think either of us could stop! I got ready at the Wors­ley Mar­riott Hotel and Mike got ready with his usher Aaron at the flat. He was dri­ven to the church,
ST
Mary's Prest­wich, by Aaron, I was dri­ven in an Impe­r­ial Laudette with my Dad, our chauf­fer was called Clive.
I was so excited that I was early! My dad kept telling me to wait but I didn't care! I walked in to the Prime Minister's Love Theme from Love Actu­ally by Craig Arm­strong and Mike cried as I walked all the way down. It was the best feel­ing in the world. The church was packed with more than 100 peo­ple but it felt like we were the only peo­ple there! We had quite a mod­ern church ser­vice with a full band. Short and sweet but lots of fun! We walked out to the Crys­tals Then He Kissed Me, our wed­ding party were vir­tu­ally danc­ing in the aisles! After­wards we had tea and cake in the church grounds, I home made all the cakes includ­ing whoopee pies and cup­cakes. My mom and I had spent the Wednes­day before the wed­ding (Fri­day) icing them all.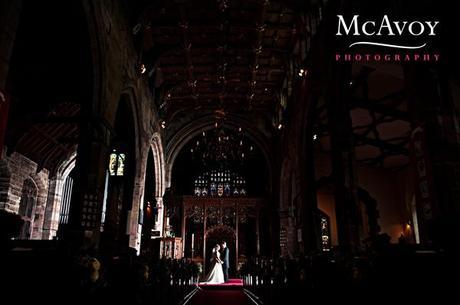 Mike wore a Prince Edward suit with a red cra­vat and ivory waist coat from Green­woods. He wore solid sil­ver cuf­flinks which I bought for him as a secret present and left by his bed. I also left him some socks in case he got cold feet, tis­sues in case he cried, whisky for dutch courage and some 'Catch of the Day' choco­lates from Hotel Choco­lat. Mike wore patent leather shoes and a watch given to him by his grandfather.
The ush­ers wore the same as Mike, although they had dif­fer­ent but­ton holes – Mike's was an avalanche Rose with Black Eye Chin (the only flower which nat­u­rally has a black cen­tre) and the ush­ers just had roses. Our page boy (my nephew, Ethan) wore a smaller ver­sion with an ivory cra­vat.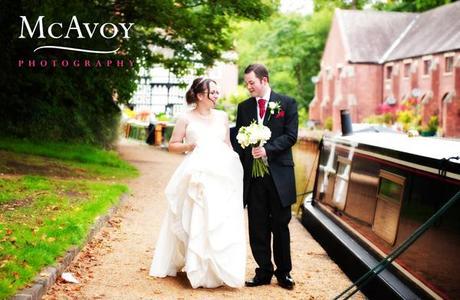 My dress was an Eter­nity Dress by Eter­nity Group. It was the 2nd one I tried on and I fell in love with it! It was from a tiny wed­ding dress shop called
Abbi Chapel Bridal
in Bur­row­bridge rural Som­er­set where my par­ents live. It wasn't quite the 'plain and sim­ple' dress I went in look­ing for but I loved it!
The brides­maids wore black and cream dresses by Dessy. We bought them from Bev­erly Wedge­wood and they had pock­ets which I loved! The girls shoes were from Deben­hams. The brides­maids wore fresh­wa­ter pearls and had cream pashminas.
My acces­sories were made to match the dec­o­ra­tion on the dress by Twi­light Designs. The ear­rings, neck­lace and tiara I wore all matched. They were slightly vin­tage in their styling.
My shoes were from Roland Cartier at Deben­hams and ended up being a late pur­chase because I couldn't find any­thing else I liked!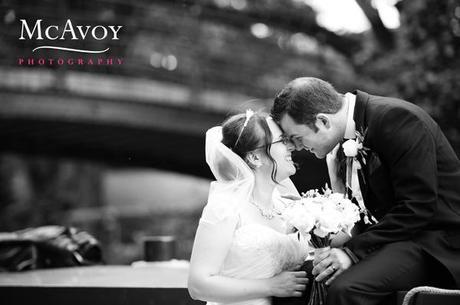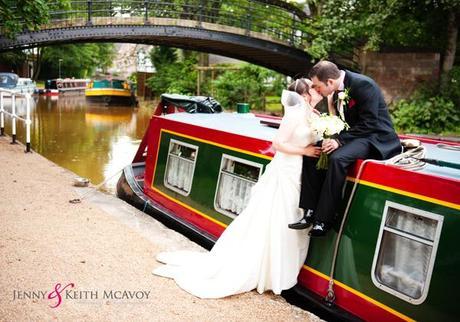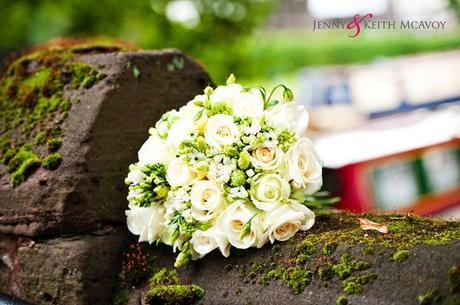 We had our con­fetti shot (we had dried hydrangea petals in con­fetti cones which I made) and then left in our wed­ding car. While all our guests enjoyed a Pimms drink recep­tion at the Mar­riott we went with
Jenny and Keith McAvoy
— our pho­tog­ra­phers — to the Bridge­wa­ter canal to have our pho­tos with the boats. It was lovely to have a minute to let the day sink in!
We arrived at the Wors­ley Mar­riott to join our friends and fam­ily in a glass of Pimms before din­ner. We had a lovely 3 course din­ner with cut­ting of the cake between the main course and desert. It was an amaz­ing feel­ing walk­ing into the room to all our fam­ily and friends as a new Mr and Mrs! I had made the cake out of 70 minia­ture cakes, great fun!
The speeches were amaz­ing. They were prob­a­bly one of my favorite bits of the day! Mike even included a pas­sage from Win­nie the Pooh that I love. It was the only part of the day when I cried. After­wards we spent more time speak­ing to peo­ple and hav­ing some pho­tos taken in the grounds.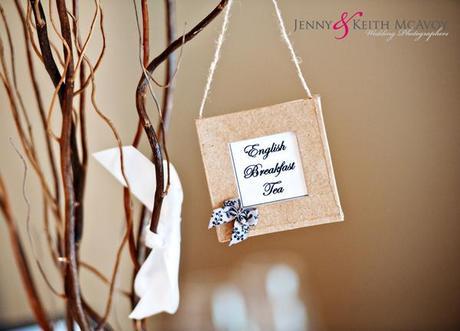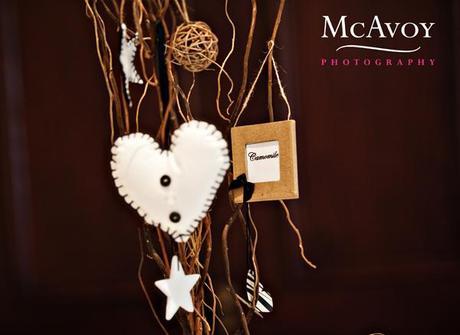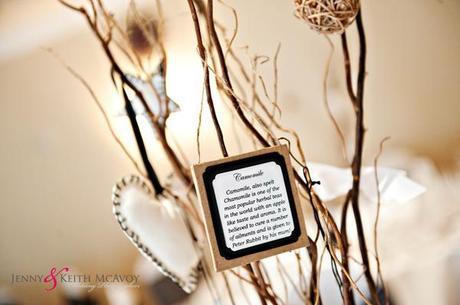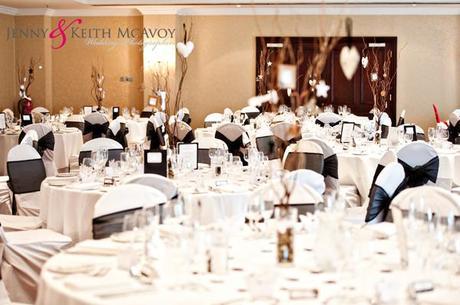 What one piece of advice would you give?
Find a moment in the day to stop and really think about what is going on. It is so easy to get ties up in the busi­ness of the day. It is hon­estly the hap­pi­est day of your life, don't let it go by with­out enjoy­ing it!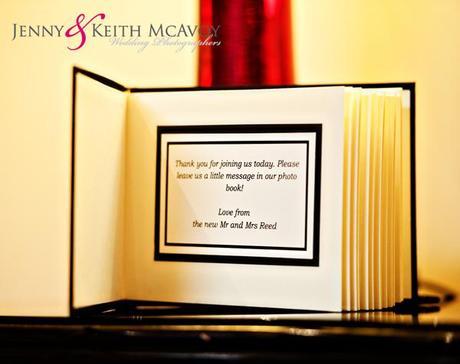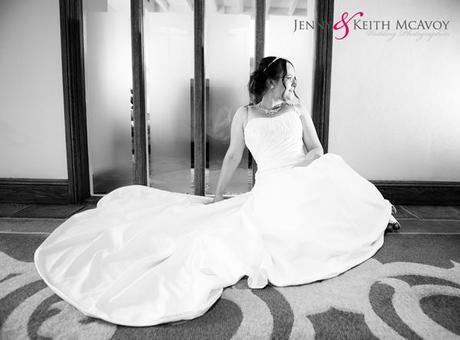 We had learnt our first dance from Denise and Paul at Two 2 Tango. We danced to Sam Cooke Won­der­ful World. I loved whirling around the dance floor and the round of applause at the end of it – much bet­ter than stand­ing and swaying!
We had an evening buf­fet and danced well into the night – bliss.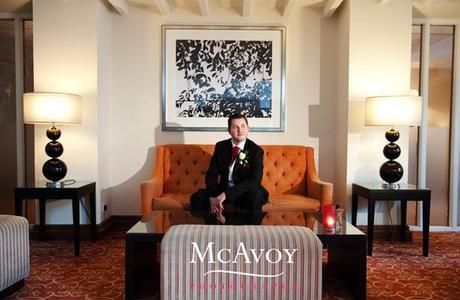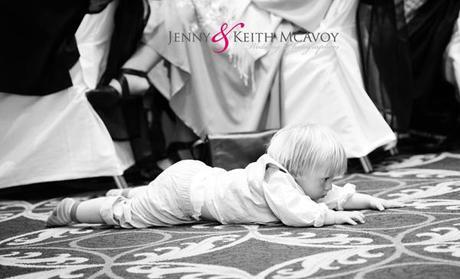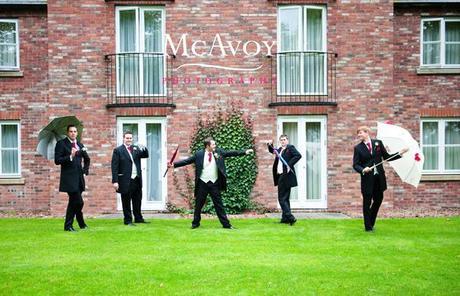 A mem­o­rable moment?
After we had got mar­ried stand­ing in the church yard with every­one out­side enjoy­ing the sun­shine eat­ing cake and smil­ing – it was so relaxed and fun – just so us!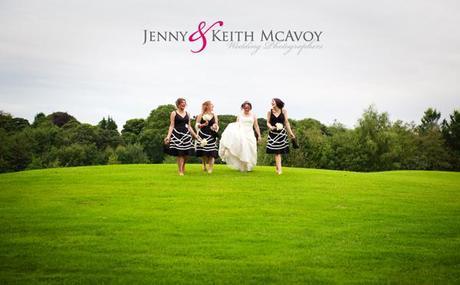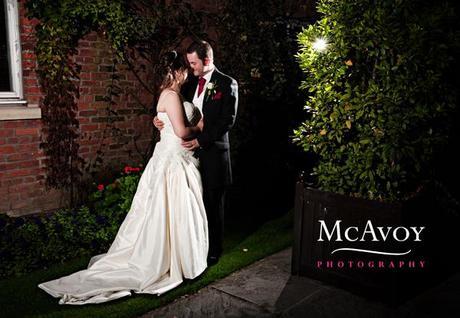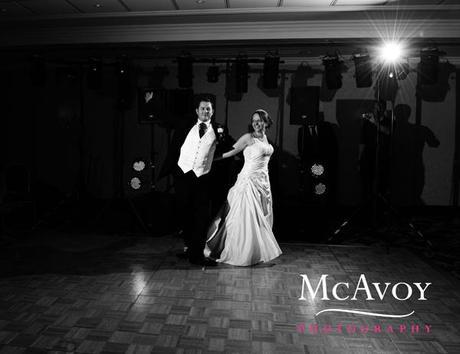 Rec­om­mended wed­ding suppliers
Jenny and Keith McAvoy – of course! They were fab­u­lous from begin­ning to end, with me who was cam­era shy and Mike who loved the cam­era! They cap­tured the essence of our day – what more could we have asked for! www.mcavoyphotography.co.uk
Hor­gans Wed­ding Cars – they were help­ful, punc­tual, made our day run on time and got me to the church on time – well early actually!
Ruth Mannion-Palmer at Effort­less Image – Ruth did my hair and makeup and not only made me look and feel beau­ti­ful but also put me com­pletely at ease! She hon­estly couldn't have done a bet­ter job!
The Wors­ley Mar­riott – they thought of every­thing. The ser­vice was sec­ond to none, they accom­mo­dated every­thing we asked and went the extra mile many times over! Their toast­mas­ter Stephen was fab­u­lous too!
See all of the pic­tures from Anna and Mike's Man­ches­ter wed­ding at www.mcavoyphotography.co.uk/blog/a-worsley-park-marriott-wedding-part-one-lets-get-ready-to-marry