I really love it when galleries think outside the box and challenge their artists to do the same. This is especially welcoming during the summer months when most galleries are too lazy to turn on the lights knowing that their clients are on vacation. This is why I am so pleased with a new show called "Covet" (don't you just love the name?) that has been jointly organized by
Sienna Patti Contemporary
and Ferrin Gallery both in the Berkshires of Massachusetts and on view through August 17th (note: Sienna's portion will be closing on August 9th).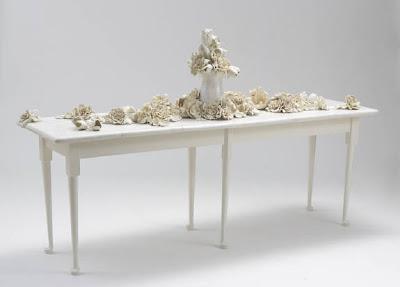 Giselle Hicks
"and then it was still", 2012
50 x 86 x 23 in.  
Vitreous China, Wood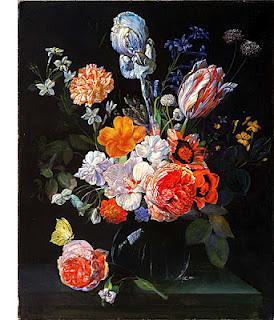 The painting that inspired Hicks: Nicolaes van Veerendael "A Bouquet of Flowers in a Crystal Vase", 1662,
Oil on canvas, 19 1/2 x 15 7/8 in. (49.5 x 40.3 cm)
Bequest of Stephen Whitney Phoenix, 1881 (81.1.652)
Metropolitan Museum of Art, New York, NY
I first learned about COVET this past April at SOFA NY. The two galleries set-up a booth at the show to give attendees a sneak peak of their summer plans. I was immediately drawn to the work on view, like Molly Hatch's "Lost Arcadia" (2012), thirty dinner plates mounted on the wall, each one a piece of a puzzle that when viewed together depicts a beautiful landscape scene inspired by a 18th century painting by Isaac de Moucheron that is in the collection of the Metropolitan Museum of Art or Giselle Hicks' gorgeous "and then it was still" (2012) vase overflowing with delicate bisque flowers that spillover to the table. This work was inspired by a Flemish 17th century painting also from the Met's collection. These are just two examples of a COVET collaboration, which paired top museum curators (an impressive group that includes Jane Adlin and Alice Cooney Frelinghuysen from the Met, Emily Zilber from the MFA in Boston, Cindi Strauss from the MFA in Houston, and Kathleen Morris, from the Clark Art Institute in Williamstown) with emerging and established artists provoking them to strike up a conversation about "content, context, social history, and patronage." The two group show combined feature over thirty artists.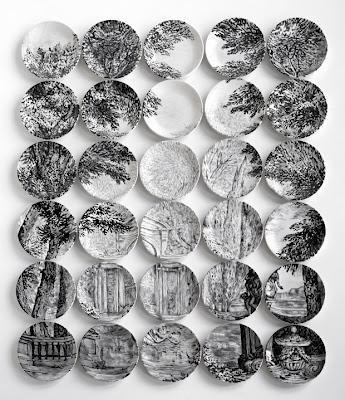 Molly Hatch,"Lost Arcadia" 201260 x 50 x 1.5 in.,  30 ceramic dinner plates, hand painted with glaze and under glaze materials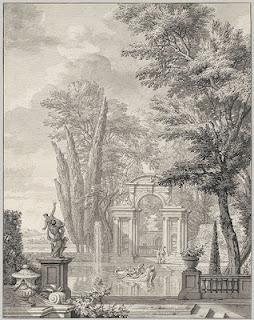 "Lost Arcadia" Isaac de Moucheron, Landscape with Architecture, ca. 1730 Pen and brown ink, brush and brown and black ink over traces of black chalk
11 5/8 x 9 1/4 in. (29.5 x 23.5 cm) (sheet)
Rogers Fund, 1961 (61.21.2)
Metropolitan Museum of Art, New York, NY
In actually, as Sienna Patti pointed out to me the other day in a telephone conversation, artists have always looked to the past. Therefore it was not that much of a stretch for Patti and Ferrin to ask them to create new work in all media based on what they saw. The gallerists made the introductions and gave their artists full creative freedom. Patti told me that the artists invited weren't simply in their stable but people that were either already working in this fashion or those who hadn't but wanted to, and people who she had never worked with but wanted to. It took each artist anywhere from three to six months to produce the work and the results were stellar. While it is hard to write about all of the work on view, two artists in particular intrigued me.
Jennifer Trask contributed two very different works but both incredibly powerful and oh, so gorgeous. The first, "Revival Neck Object" was inspired by a Cartel clock from the 1700's found in the collection of the Metropolitan Museum of Art. For Trask, who makes sculpture and jewelry by combining carved antique frames and animals bones, the Cartel clock seems like an obvious point of reference because of the gorgeous swirling gilt bronze frame. Although the artist admits that "the pressure to find 'one' object that I was particularly enamored with at the MET was an impossible task." In fact she explains her two very unique works by saying that "I was able to do is identify two very distinct styles of objects that hold equal appeal for me. I found that I'm drawn to objects on opposite ends of the style continuum: Baroque carved pieces to deco furniture right down to minimalist paintings."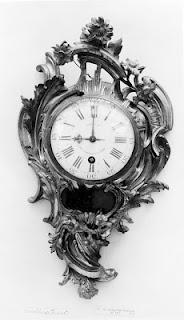 Cartel 
Clockmaker: Jean-Jacques Fieffé  (ca. 1700, died 1770)
Collection of the Metropolitan Museum of Art, Accession no. 23.67.23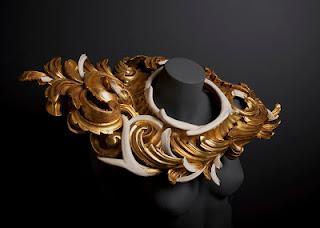 Jennifer Trask,
Revival Neck object, 2012 Wood, gesso, 23.75k gold leaf, antlers, boars tusks. The bulk is carved from a c. 1900 clock body from Sweden.  Additional wooden parts carved from 17th, 18th c. Italian frames.
The "Revival Neck Object" is a sweeping, grandiose testament not only to Trask's wild imagination but her skill as an artist. In explaining this work, Trask has said that "it is a wearable piece - theatrical, leaning toward absurdity. An unapologetic spectacle. The gilded scrolls with boars tusks and antler consumes the wearer."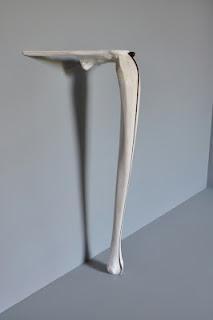 Jennifer Trask
Limb, 2012 Giraffe femur, cocobolo wood, epoxy resin.  Inlaid bone and wood strips - the entirely of the form made from one bone.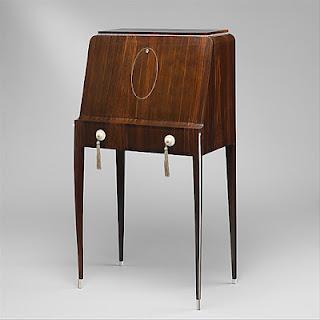 Lady's Desk
Émile-Jacques Ruhlmann  (French, Paris 1879–1933 Paris)
Collection of the Metropolitan Museum of Art, Accession no.  23.174
As someone who has spent a lot of time studying the furniture of Emile-Jacques Ruhlmann, I found Trask's "Limb" to be a very unusual interpretation of this Art Deco master's work but so fresh and unexpected, picking up on the delicacy of Ruhlmann's creations.  Trask explains "Limb" by saying that "An implied fragment of furniture - an idea that is spare, minimal and reduced to a non-functional object. Limb is my response to the many beautiful Ruhlmann pieces in the collection of the MET. At first I was smitten by the contours, the jewelry scale detailing - inlays and veneers that tapered to impossibly thin proportions only to flare and curl seductively at the opposite end.  The sleek forms are almost devoid of any reference to the organic origins of the materials. Limb is both a leg and a branch, a reference to both the plant and animal nature of the original and the appropriated meanings. The piece gives a sly nod to materiality and furniture design, poking fun at the way we tend to anthropomorphize furniture, among other things." 
Artist Doug Bucci got the idea for his contribution, a brooch titled "Sweetmeat" which comes in its own basket, two years ago when visiting the Philadelphia Museum of Art. COVET simply allowed him to "resolve" this idea and begin creating pieces that will eventually complete his own version of an epergne, or a centerpiece.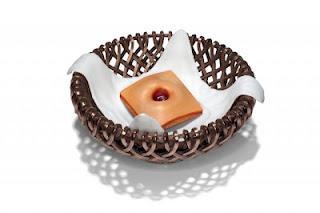 Doug Bucci, Sweetmeat. Basket, 2012, 3D Printed Stainless Steel, 7 x 7 x 3.5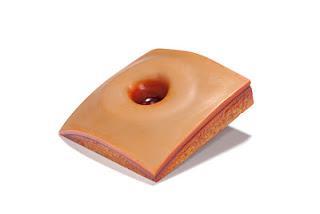 Doub Bucci, Sweetmeat. Brooch, 2012, Photopolymer (hearing aid resin), polychrome, and 18K gold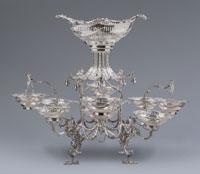 Centerpiece, Epergne
Made in London, England 1773-74
Emick Römer, Norwegian (active London), 1724 - 1799
Silver
21 1/4 x 24 1/4 x 24 1/2 inches (54 x 61.6 x 62.2 cm)
Collection of the Philadelphia Museum of Art, 1946-17-1
Bucci, an artist who openly talks about his battle with diabetes and who makes it a large part of his work, wanted to focus on the implications of overindulgence and also drew inspiration from "social context from 18th century dining and the intricate service ware used at the time." Bucci explains that "when looking back at dining in the 18th century and placing in a social context, it was clearly a display of wealth, power and status. In the present day, such over-indulgences can have deadly consequences, leading to obesity, diabetes, and diabetic complications. I drew from the beauty of the table service to recreate an intricate vessel, but now the gruesome image is the shrouded human consequence of such action." Both the brooch and the basket are examples of Bucci's use of unconventional materials, the brooch is made of photopolymer, the same type of plastic used for hearing aids, and his implementation of CAD to design and make jewelry. The artist takes physical data from blood glucose readings and puts that into the software program which in turn creates patterns that he transfers onto the jewelry. All of Bucci's pieces are made to be worn but the concept is integral to the piece just as much as its design.
Patti and Ferrin are also behind
ArtBerkshires
, an initiative to give visitors to this region in the summer months something else to look at besides the performing arts (this is the summer destination for Jacob's Pillow and numerous other festivals). They have developed a whole program surrounding the exhibition, including tours, artist talks, and, my favorite, a dinner called Dish+ Dine that gives artists, curators, and patrons an opportunity to get together to talk art over good food, good wine, and good art, literally. The event, scheduled for August 17th, will be catered by the famed Red Lion Inn and guests will be able to eat off plates made by Hatch.  How cool is that!?
When not busy with ArtBerkshires and its summer programs, Patti runs two successful galleries, Sienna Patti Contemporary specializing in contemporary art and Sienna Gallery, which is how I know Patti, focusing on contemporary studio jewelry while Ferrin's gallery features figural sculpture and studio ceramics.
For a complete list of scheduled events visit http://artberkshires.org/events/