This world we live in is a bizarre environment as we try to keep our strength but we fight the windmills in endless adventures. We destroyed real courage to face challenges. We worry all the time saying that anyway is not in our power to change things.Sometimes we meet providential people, people who transform collective fears in heroes. This kind of  people are invincible, unstoppable and unforgettable.
Malala Yousafzai's book – "I Am Malala" is a disturbing story, full of drama and hard lessons of life.
In 2014, Malala and Indian Kailash Satyarthi, a defender of children's rights were Nobel Peace Prize laureates, Malala being the youngest person in history that was awarded.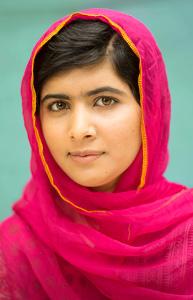 Malala was only ten when the Taliban had come to control most of Pakistan, including Swat province, where her family lived. Had been banned music and television, restricted human rights and closed schools for girls. Fear had become absolute master of consciousness. The fear of being kidnapped or beaten or executed. In a country overwhelmed by the horrors and crimes, a child still finds the strength to write a blog for the BBC's. Urdu horrors that you see every day. She was only 11 when begin writing about occupation Taliban, Islamic fundamentalist groups atrocities, but also about the right of children (especially girls) to education. And just 12 years old when shot in the head by a Taliban group in the school bus that took her home, in their attempt to silence a voice that is heard increasingly stronger. Although seriously wounded, survived some complicated operations against the military hospital in Peshawar and then in Birmingham, where she followed a long rehabilitation treatment and where she lives now with her family.
Malala  after facing death is no longer afraid of anything. She teaches some simple things, but deep and harrowing.
The bullet that went through her brain and neck, which destroyed the inner ear and took away hearing, turned her into an active militant for the right to education of children around the world. The book she wrote with a British journalist, I am Malala is the story of a girl who fight the Taliban regime in Pakistan, a country where women's rights are constantly forgotten. Malalai is the daughter of a brave father, who put the foundation a school for girls and encouraged his daughter to speak. A mother's daughter who lives each day with the horror of seeing their child killed. She is the daughter of millions of people, men and women, refugees, beaten, kidnapped, raped, killed, all those who can not speak about their pain, those who lost their courage and hope that there will be another day tomorrow. For them, on their behalf, speak now Malala. For those without a voice that can be heard.
Malala fight with a gun – a destroyed childhood, but one with great efficiency, since it was heard in the Oval Office and the United Nations and the child learned to live through misfortunes. She has a voice that asks for the right to education for millions of children living in poverty, in the midst of stupid wars.
The girl whose face will forever bear the traces of the attack has the courage to smile.She ensures us that no matter her face is asymmetrical now and she can not smile or blink well since God has been so generous and left her alive.
"I always look the way they look and my hair. But when you see death in front of your eyes, things change."
"I once asked God to be a few inches taller. And he made me high up in the sky, so high that I can not even measure myself …"
Malala continues her struggle as she knows better, fighting for right to go to school for girls in Pakistan and Afghanistan. She herself went to Nigeria to show her solidarity with the 300 girls, most Christian, kidnapped by Islamist group (because western education is forbidden).
President Barack Obama told Malala a simple truth: Instead of sending weapons, send cards. The best way to fight terrorism is to invest in education.
I saw her name in the Romanian press recently, saying that Malala is placed by Time magazine among the 100 most influential people in the world. Unfortunately, it talks about people like Malala being too rare in Romania, a country that fails to set up a functional educational system.
Maybe we should rediscover, through a girl from Pakistan an essential truth: A child, a teacher, a book and a pen can change the world.
"A child, a teacher, a book and a pen can change the world."
Filed under: advertising books, reviews, spotlight authors, spotlight books, Thoughts, Uncategorized Tagged: authors promotion, best seller books, I am Malala, Madi Preda-AuthorsPR, Malala Yousafzai, Nobel Peace Priza laureats, Pakistan, right to go to school, the right to education, Time Magazine