THE GIRL WHO DISAPPEARED by James Lingard is a fact-based historical novel set in Britain in the 1930s and continuing through the Second World War.
Production of the audiobook has now been completed and it will be launched by Wordwooze Publishing in July.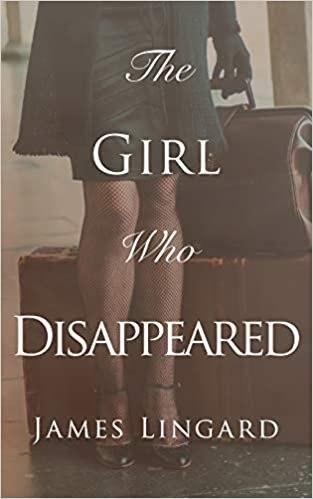 Emily living with her strict parents in Halifax falls in love with Walter Lingard but on bringing him home, her father throws him out of the house and tries to force her to marry someone else. Emily elopes with Walter during the night to escape her domineering father.

This is a fascinating novel set in turbulent times, using a woman's voice on her thoughts and feelings of war. Her character grows as time passes from a spoilt young women to a mature lady who has experienced a challenging life. We see her struggle to survive the devastation brought about by the war as she and her four year old son are thrown into the midst of danger and death. The family experience rationing and the terror of bombing. Their air raid shelter is destroyed by a direct hit.
When Walter volunteers for the army, Emily and her son are evacuated to a rat infested cottage in a farming community near Hebden Bridge. The war changes Walter into an efficient army officer who demands to be obeyed. Emily worries that she might have a rival for his affections.

The Girl Who Disappeared is a moving love story about one woman's enduring resilience, a story full of quiet humor and surprising twists and turns.
'Wow! What a good book' (Goodreads reviewer)

'James brought their lives to life' (Librarything reviewer)

https://www.amazon.co.uk/dp/B07YMZHKS9
https://www.amazon.com/gp/product/B07YMZHKS9

The book has been featured in a surprising number of blogs including:-
1. Sue Vincent's Daily Echo blog at https://wp.me/p1wss8-mS0
2. Heidi Angell's blog An Angell's Life.
3. Jera's Jamboree
4. Book Read 2day and
5. Donna's Book Blog
See also https://www.goodreads.com/jamesbat
Author James Lingard has devoted an entire chapter to his family's time in the town, during the years immediately after the conflict.
"Chapter 18 is devoted to the years my family spent in Keighley," said Mr Lingard.
"My father was manager of the Lloyds Bank branch in the town from 1947 until the early 1950s. I well remember the town as it then was."

About the author

Mr Lingard attended University College London and became a leading solicitor in the City of London, specialising in banking law and insolvency.
He was a council member of the Association of Business Recovery Professionals and the European Association of Insolvency Practitioners, and judicial chairman of the Insolvency Practitioners Tribunal. He's the original author of Lingard's Bank Security Documents and a number of other legal books, and more recently wrote Britain at War 1939 to 1945."
INTERVIEW
Why did you write THE GIRL WHO DISAPPEARED?
The book was prompted by some reviewers of my nonfiction history book, BRITAIN AT WAR 1939 to 1945, who expressed disappointment that it did not cover the periods before and after the war. The new book is closely fact based but categorized as historical fiction because it contains considerable dialog and covers the pre-war period before I was born. From 1940 onwards, I write from personally having experienced what took place including a number of near death dramas.
Where did you grow up?

I was born in Petts Wood (a suburb south of London) but my formative years were in Hebden Bridge / Keighley Yorkshire.
What were any childhood experiences that might have shaped your personal development?
Two years at boarding school (Dulwich College).
Was there any one person who influenced you?

Richard Gallichan, a solicitor.
Curious – how did he accomplish that?
He specialised in banking law and taught me the basics of the subject I subsequently specialised in.
At what age did you discover that you liked to write?
Twenty, when my first magazine article was published.
Was it well received? What about it hooked you?

It got published and I had the thrill of seeing my work in print.
Was the law always something that you wanted to pursue?

Yes from 17 onwards.
What about it excited you?
Insolvency law is exciting. Can the business be salvaged? Are all the employees out of work?
What did it feel like to change from writing legal briefs and textbooks to surrendering to the emotional path of character building and plot development?
When I retired from front line insolvency law, I decided to do something entirely different and spent a weekend listening to lectures by a novelist. My first novel was not a commercial success so I changed to nonfiction and wrote Britain at War 1939 to 1945. A reviewer suggested that I expand this and write from my mother's point of view. This I did with help from Cornerstones and others. The characters and plot in THE GIRL WHO DISAPPEARED are 90% fact based.
Have you always had a passion for history?
Yes from school onwards.
What is your most favorite century/decade to study?

The 19th century.
Name one event in your life that changed you or changed your path?
Retirement!
LINKS:
https://www.amazon.co.uk/dp/B07YMZHKS9 https://www.amazon.com/gp/product/B07YMZHKS9
https://wp.me/p1wss8-mS0