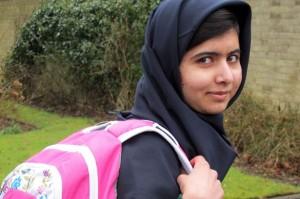 The life story of Malala Yousafzai, teenage Pakistani children activist who was shot by the Taliban last year, will be published later this year, in a deal reported to be worth around $3m.
"I am Malala" will be published in the autumn and will tell the details of Taliban attack on the 15-year-old girl, who was shot in head by Taliban on October 9 when she was on her way from her school in Mengroa.
Last month  she successfully underwent surgeries of skull reconstruction and a cochlear implant to restore her hearing in  Birmingham's Queen Elizabeth Hospital.  She now attends a school in Birmingham.
"I hope this book will reach people around the world, so they realize how difficult it is for some children to get access to education," she said.
"I want to tell my story, but it will also be the story of 61m children who can't get education. I want it to be part of the campaign to give every boy and girl the right to go to school. It is their basic right."
In UK the publishers of book is Weidenfeld & Nicholson while in the rest of world it will be published by Little, Brown.
Malala earned the global eminence for her for her work to promote the schooling of girls in her hometown Swat during the Taliban oppression in the Valley three years ago.
Malala was just 11 when she wrote a diary about the treacherous situation of Swat during the military operation. In the diary, which she kept for the BBC's Urdu service under a pen name, she unveiled the atrocities committed by the Taliban. Her identity surfaced just after the Taliban were hound out of the Valley.
Thanks to her brave and exceptional services for peace in Swat Malala was nominated for an international children's peace award.  In December 2011 she was honoured with the first National Peace Award by the Pakistani government.
Malala, who has been awarded several peace prizes since the shooting and is the youngest person to be nominated for the Nobel Peace Prize, writes in the book:
"I come from a country that was created at midnight. When I almost died it was just after midday. It was Tuesday, October 9, 2012, not the best of days as it was the middle of school exams, though as a bookish girl I don't mind them as much as my friends do.
"We'd finished for the day and I was squashed between my friends and teachers on the benches of the open-back truck we use as a school bus. There were no windows, just thick plastic sheeting that flapped at the sides and was too yellowed and dusty to see out of, and a postage stamp."