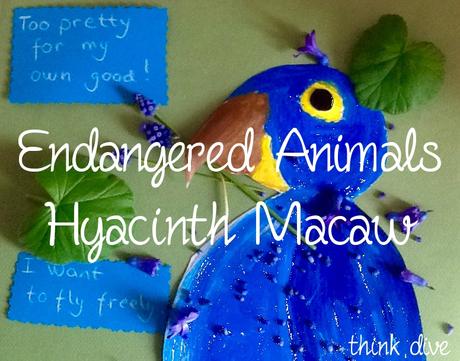 Blue Hyacinth Macaw is a stunningly beautiful parrot.
We made a craft were we combined acrylic paint, with real hyacinths, muscari flowers, leaves, and twigs. Little notes about this brilliant-blue parrot with bright yellow rings around its eyes and on its beak were also added.
Information about this bird:
The tail is long and magnificent and the bird can be up to 100 cm long.
Blue hyacinth are social birds and they love to gather in groups.
The hyacinth macaw lives in tropical rain forests in Brazil, Bolivia and Paraguay.
They have big strong beaks that are a great tool when they crack nuts and seeds.
Macaws have gripping toes that help they to grab and hold things.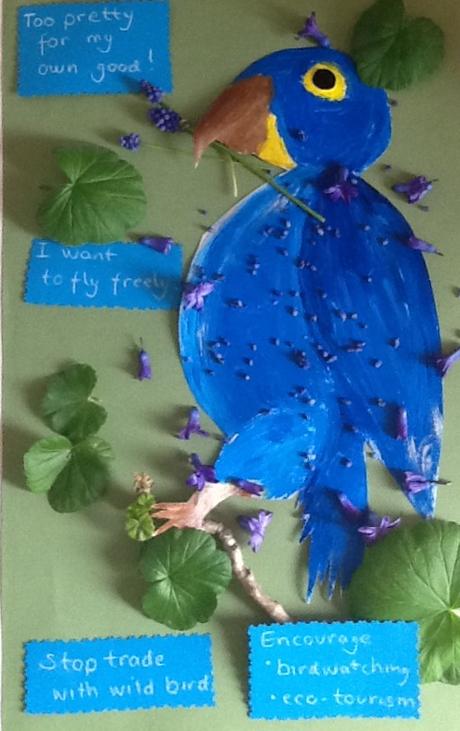 Sadly this parrot has become a popular pet and it also often accused by farmers to ruin palm trees.
These beautiful birds deserve to fly around freely in the rain forest and encouraging children to watch birds in the garden or the local park may help them to develop a love and understanding of the importance of seeing birds flying freely. Eco-tourism is also a way to encourage people to watch bird in the wild.
Spring time is a great time to do some bird watching. The branches is often bare and you can easily spot a singing birds. A great way to learn to identify the different bird calls.
Why not keep a nature-book basket with a nature note book, binoculars and some bird books next to the door? Encourage your child to draw what she sees, or take a photo. We have been trying to capture a little robin for weeks, but he is very quick . . .