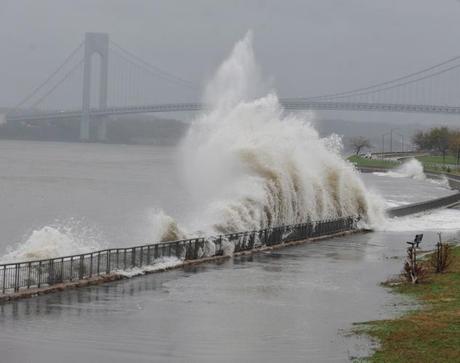 Photo credit: Susan Polger www.susanpolger.blogspot.com
* * *
Weather can take its toll on things; it can knock out boardwalks, destroy homes, cause boats to drift out to sea, flood apartment buildings in Manhattan and elsewhere, and leave millions of people without power. Hurricane Sandy dumped on the East Coast, and now we're trying to rebound. I sit here thankful that the only damage my property suffered was a tree that's now leaning across my front living room picture window.
Jeannette Walls' appearance at the Meyerhoff Symphony Hall tonight as part of Stevenson University presents The Baltimore Speakers Series has been postponed. I was so looking forward to not only hearing her speak, but also to meeting her at the reception afterwards. I had the distinct honor of writing the Professor Prologue about her for Stevenson University, and it's posted on our website here.
Therefore, hearing about her journey as a writer, daughter, sister will have to wait. In the meantime, I've purchased her most recent book, "Half Broken Horses," a novel about her grandmother to read.
For those of you on the East Coast who endured Sandy, I hope you are safe and experienced only minor inconveniences. My dear friend Currie's father, Jim Guidone, has been reporting live from Rehoboth Beach in Delaware, and may be heading to New York soon. As the public relations spokesperson for the American Red Cross, he has been busy, right in the thick of things in his drenched poncho, covering the story. He's been on Fox News, CBS, and CNN Headline News.
And so, we are here in the aftermath of the storm. And we will wait patiently as we return to our regular, daily routines.