For years, Hunx (aka Seth Bogart) and his ever-evolving band of Punx have kept the party going in signature scuzzy, sassy style. They've danced around genres like glam rock, garage pop, and 60s girl group influence with incomparable, homoerotic flair; but now, their next adventure finds them heading in a bit more, well, ballsy direction. This time around, Hunx & His Punx have ditched the sweet talk and gone straight for the jugular. Want to know what a "street punk" is? Well, he (or she) is an outsider, a rebel, a ruffian; a punk in the most traditional sense of the word. But because this is Hunx & Co, Street Punk is a lot more fun than it probably should be.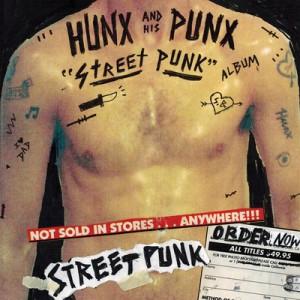 Fans of the band will remember that 2011's Too Young To Be In Love was peppered with plenty of "oohs," "ahhs," and all the rose-tinted, infectious spirit of a very first crush. Street Punk, however, rejects these notions entirely, and in a shockingly aggressive fashion. Don't like our music? Our clothes? Our bad attitudes? Hunx & His Punx seem to have but one response: the swift raise of a collective middle finger. There's a great, frantic cover of an early hardcore Beastie Boys track, "Egg Raid on Mojo." On the self-explanatory "Everyone's A Pussy (Fuck You, Dude)," lead Punx Shannon Shaw (of Shannon and the Clams) repeats this aforementioned sentiment via thirty seconds of screeching shouts. Naturally, co-frontperson Bogart feels similarly distressed. "I feel really fucked up!" he yells on angry/hilarious opener "Bad Skin," which is just plain fast, furious, greasy punk fun– exactly how it should be.
While melody takes a backseat on Street Punk, it does exist, particularly on tracks like raging love song "You Think You're Tough" and the surprisingly sweet "Mud in Your Eyes." Overall, though, the record is a rollicking ride; a semi-comic day in the life of a dirty little street punk ("I got nothing better to do/But I don't care, cause I got a blonde attitude," goes "Born Blonde.") But while it's all fun, games, and stabbings at first, by the end of the day, aren't these punks just as sad and lonely as you and me? "It's not easy being me," Bogart laments on the album's melancholy closer. But are we really buying it? Not quite. Title track "Street Punk" claims that Hunx & His Punx "don't fit into your world." However, while that may be true, it doesn't mean you won't want to sing, dance, laugh, and shout right along with them. You will.

3.5 / 5 bars