Losing weight can sometimes be frustrating when you see your weight loss goals not being met. This can easily be attributed to poor dieting plans. Whether you have put yourself on a weight loss plan or are planning on undergoing the lap band surgery, a proper diet is essential. That means cutting out a lot of greasy and unhealthy, albeit delicious, foods. But do we really have to sacrifice taste for health? The answer is, thankfully, no.
Take for instance this awesome recipe for a delicious alternative to fried chicken. Love fried chicken but hate the fattening grease? Well, we've got the perfect solution for you, thanks to a Mrs. Skinny Ms. Try out this Faux-fried chicken recipe! We dare you to try to tell the taste difference between the two!
First we'll need:
1/2 cup of non-fat buttermilk, OR 1/2 tablespoon lemon juice (or vinegar) mixed with (1/2 cup) 1 percent milk
1-1/2 tablespoons of Dijon mustard
2 cloves of garlic, minced
2 teaspoons of hot sauce
6 medium to large (2 to 2 1/2 pounds) chicken breasts (not boneless), skin removed
1/2 cup of white whole-wheat flour
1 1/2 teaspoons of paprika
1 teaspoon of dried thyme
1 teaspoon of baking powder
1/8 teaspoon of salt
Freshly ground black pepper to taste
Once you have all the ingredients together, it's time to start cooking.
Preheat your oven to 425 degrees (Fahrenheit).
Take a wide bowl and mix together the mustard, garlic, buttermilk, and hot sauce. Dunk the chicken into the mix, making sure both sides are covered. Then, cover and refrigerate the chicken for about 30 minutes or up to 8 hours.
Take a baking sheet and line it with foil. Underneath, coat the wire cooling rack with a cooking spray.
Beat the flour, thyme, baking powder, paprika, salt, and pepper in a small bowl.
Put the mixed flour in a sealable bowl. Next, put the chicken in the bowl and shake till the chicken is thoroughly covered. Then, shake the chicken to remove any extra flour and place the chicken on the rack.
Coat the chicken with cooking spray and bake for 40-50 minutes.
And voila! A healthy alternative to fried chicken, without losing the taste.
Recipe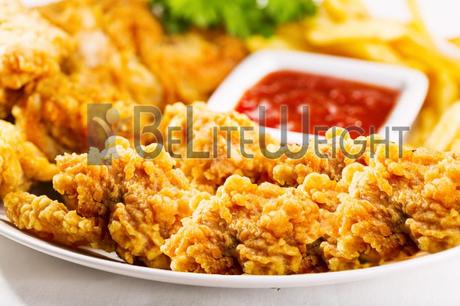 Recipe Name
Faux-fried Chicken?
2014-10-17 1H30M 1H30M Total Time 1H30M
no rating





Based on 0 Review(s)