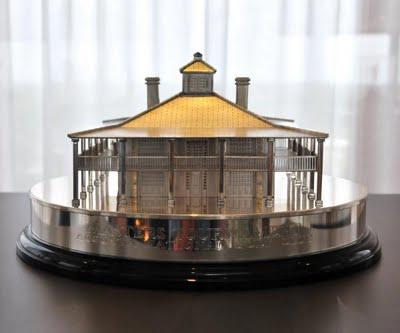 Today I'm suffering from a Masters hangover.
I wonder how Rory is feeling? At least he did lead the Masters for three rounds.
Had Rory been paired with Day again or somebody he could have some on-course camaraderie with, I believe his final score would have been nearer 70 than 80. I also wonder if Greg Norman will have a word.

What can you say about deserved winner South African Charl Schwartzel? An unbelievable opening chip, which kissed the grass all the way into the first hole. Followed by a hole-magnet-side-spinning approach on the 3 rd. You can't blame him for thinking it could be his day. When you still have to birdie the last four holes to win the Masters, these modern young athletic golfers are something else.

Tiger can take credit for that and for another great final round. Only a fool would write off Tiger at Augusta.

It was g'day mates all round between Day and fellow Aussie Scott. Both played with smiles on their faces which transmitted all the great virtues of modern golf. The cameras switched between Day and his good wife, a real humdinger.

In between the birdies a delightful network interlude with Nick Faldo, Sir Nick to his friends, coming from the member's locker room. Where past Masters winners proudly keep their green jackets in shared wooden cupboards. Made me think if the cut or shade of green had changed at all over the past decades? I did notice that there was no room for Nick's Pringle jumpers.

Is it just me, but after hearing the voice of golf Peter Alliss muttering time and time again how beautiful the trophy was I started to doubt my high definition TV. A solid silver replica of the range-style Augusta clubhouse with extra chimneys. I'm sure Kevin McCloud from Grand Design would wince at the sight.

And finally some good news for Japan with Hideki Matsuyama being the only amateur to make the cut.
-------------------------------------------------