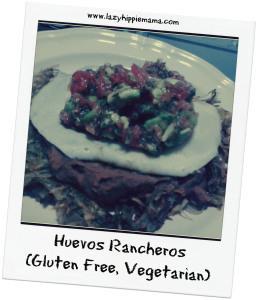 My family is not gluten free but this delicious high-protein vegetarian dish is.  We discovered it one day when I forgot to buy tortillas and had to improvise.  It definitely qualifies as fud (if you missed the original "fud" post, you can read about it here.). 
I first learned about Huevos Rancheros when I was living in Santa Fe. There, they come as this fabulous sloppy pile of green or red chili-sauce covered wonder. BEST. FOOD. EVER.  I didn't see them again until I got to Tucson, years later. The Tucson version was more Tex-Mex style. They used chili and whole beans (like the soup). It was quite good.  For years I've played with variations and never quite gotten it exactly the way I like it.  Probably because I've never managed to make a Santa Fe style green chili sauce that came out right.  However… this is the super simple recipe that has emerged. It's fast and easy and inexpensive and filling and very flavorful.  What more could you ask for? Give it a try!
What you will need:
potatoes – one medium per person
refried beans – There is a great recipe for homemade refried beans at "100 Days of Real Food" or you can use the canned kind. I promise not to judge you.
eggs – 1-2 per person
Salsa – here's the recipe for my favorite mild salsa.
Oil for frying – I prefer coconut oil
*optional – cheese, diced green chilies, sour cream
Putting it all together.
Start by tossing a tablespoon or so of oil into your pan.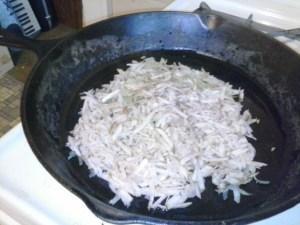 Hash browns, just starting to cook.
While that's heating, shred one potato using the large holes on a cheese grater.
When the oil is hot add your shredded potato and make it into a nice flat circle.
*if you are opting to add the chilies, now is a great time. Mix them with the potato.
Cook your potatoes until they are golden brown – about 5 minutes on each side.
Repeat for as many servings as you need. Keep finished potatoes in a warm oven to keep them from getting cold or soggy.
Do not take plates out of the oven with your bare hands. It's horribly painful. Not that I've done that. Repeatedly.
Top with the refried beans
Put your eggs on top of the beans (I prefer mine over-easy and that's what's pictured but you can do them in whatever way floats your boat.)
*If you want cheese, put it over the eggs so it can melt a bit.
Add a generous amount of salsa (and sour cream if you want it) on top.
Voila! Gluten Free Huevos Rancheros.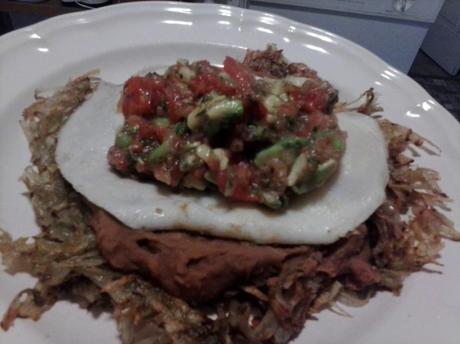 Are you, too, seeking to save the earth, promote world peace and raise productive citizens without expending too much effort?
Why not follow Lazy Hippie Mama  by email, Facebook, Google+, Twitter or Instagram to get all the updates? 
If we work on our goals together, they may be a little easier to achieve!