Welcome to
HUE ARE YOU
?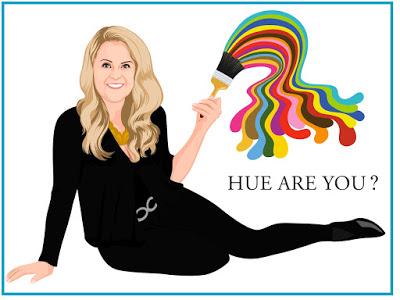 A weekly blog series exploring different creatives' views on color and its use in interiors, art and design. We will dive deep into their obsessions with color. How and why they use color. You will get to know their stories and you may even gather some tips for using color in your own home. What is better than learning from the experts!
_______________________________________________________________ 
Hue Are You? 
Designer Spotlight: Cheryl Luckett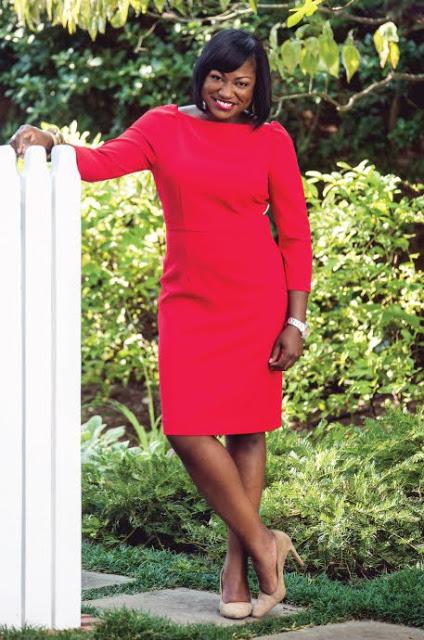 I am pleased to have as my guest today Charlotte North Carolina designer Cheryl Luckett. H
er design aesthetic is sophisticated but approachable; easy and livable. She started her own firm in 2012, Dwell by Cheryl Interiors continues to grow with clients raving about Cheryl's ability to transform a space on a realistic budget, as well as her professionalism and attention to detail. Her most recent achievement is her collaboration with Sylvester Alexander launched last October at Highpoint market called Belle, 5 distinctly Southern pieces of furniture from settees to consoles. 
Let's hear this Southern girl's views on color .......Susan Jamieson:  What one color represents your design style? 
Cheryl Luckett: Blue, it's usually present in some way in every project.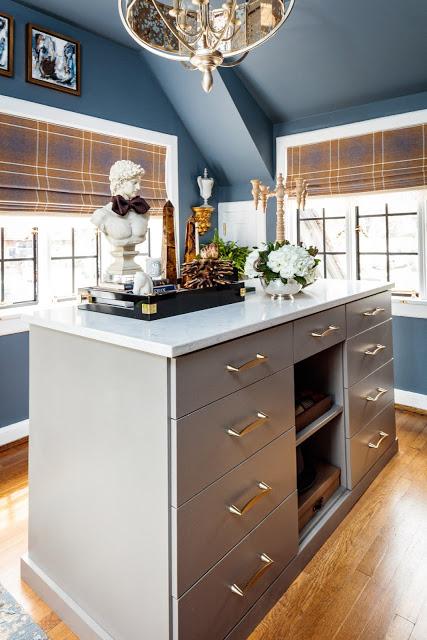 SJ:
Do you use color as a dominant role in your designs or as an accent? 
CL: It's usually a dominant element.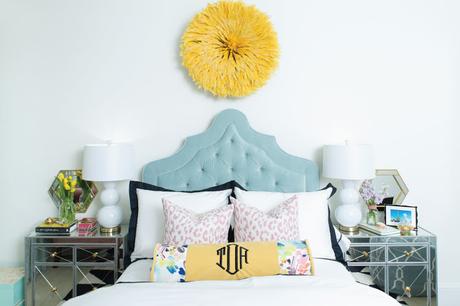 SJ: How do you feel about matching colors in a room? 
CL: While I do like cohesion, my aim is never to match.  I love using varying shades and tints of a hue.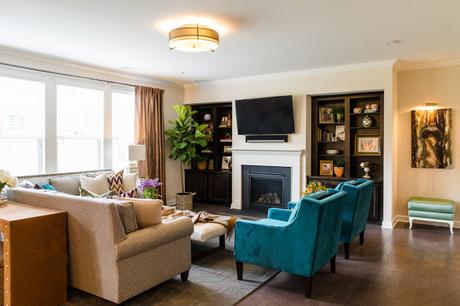 SJ: What color represents your personality? 
CL:Fuchsia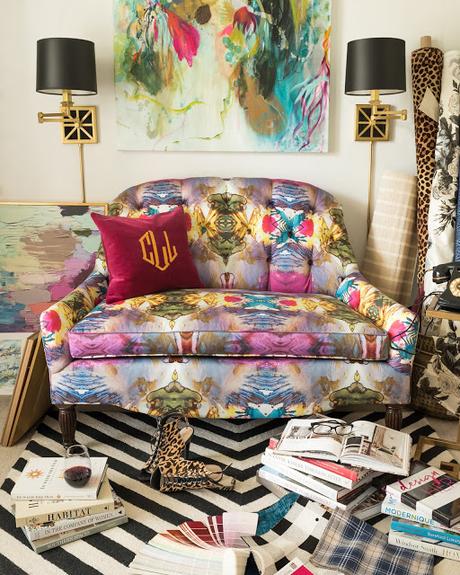 SJ: What color comes to mind when you talk about: 
Your favorite City .......  Gulfport, MS (home)- Light Blue
The House You Grew Up In .........
Yellow, it was a brick home with yellow shutters and my room was also yellow.
Last Fabulous Dinner You Had ........ 
White, Dined at a fabulous new French restaurant in Charlotte and the modern, Parisian vibe was definitely fresh and clean.
 Your favorite Flower ....... Peony- White with a hint of blush. I have a bush in my backyard that I've cared for over the past 11 years and I patiently wait for its lush blooms every spring.
Your favorite season ...... 
White, I love winter.  I love the holidays and while we don't get much snow where I live, when we do the light that dances off the white snow is my favorite.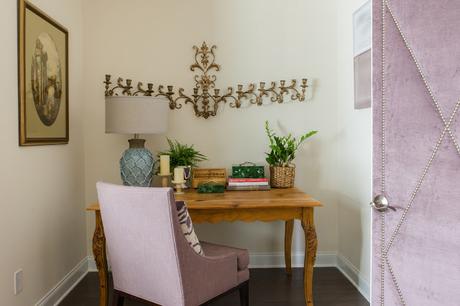 Your Favorite Art ...... 
Purple, from an abstract painting I recently had commissioned.
Your Favorite Room in Your Home ..... 
Gold.  I love warm touches of gold in a space.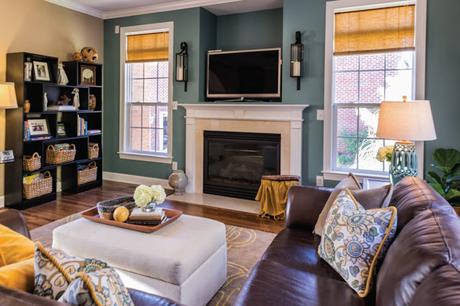 Your Favorite Beauty product .... Taupe, I love my shadow stick.  It's a taupe color but has a hint of sparkle that's just enough pizzazz for every day use.
 Your Favorite Article of Clothing ...... Kelly Green, I love my one shoulder top in Kelly green.  It's been a go-to for years.
SJ: Name a color you never use? 
CL: 
NONE
SJ: Name a color you use frequently? 
CL: Orange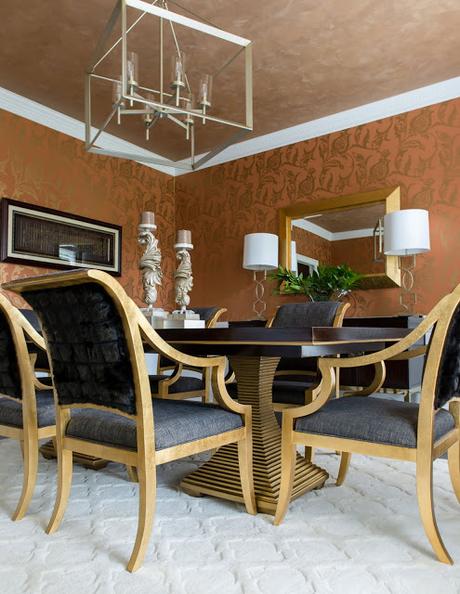 SJ: If you could pick a name for a color what would it be? 
CL: 
Boysenberry.  I just light the way it sounds.  : )
 SJ: Do you have a pet? What color reminds you of him/her? Do you have a nickname for this pet? 
CL: No pet. 
SJ: What is the Now Neutral? 
CL: Animal Print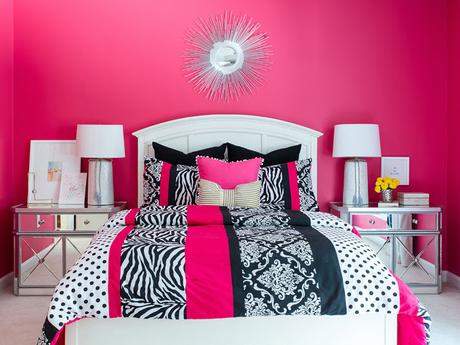 SJ: What is your prediction for the next big color trend? 
CL: 
80s colors.  Bye-bye millennial pink, Hello mauve and hunter green!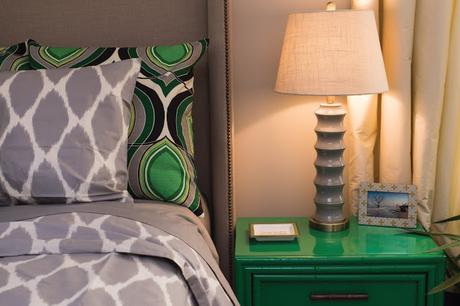 SJ:
What are the best color combinations? 
CL: 
I love complementary colors.  I guess it's true, opposites attract.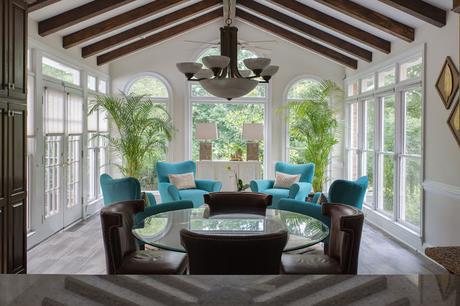 SJ:
Best advice when it comes to picking paint colors? 
CL: 
Color is personal, go with your gut. 
________________________________________________________________