Watchmakers have long used sports in their marketing. Many brands have been official time-keepers of snow ski races, rugby and soccer matches. In Europe it is not even uncommon for many individual teams to have their own official time-keeper. Well now, the practice is moving into the United States as Swiss luxury watchmaker Hublot has announced that they will be the official timekeeper of the NBA's Los Angeles Lakers.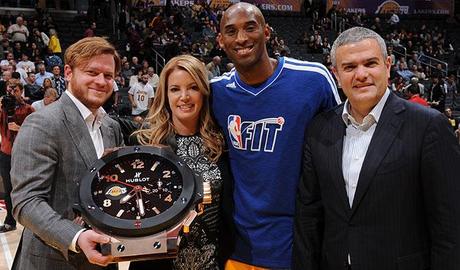 Hubolt is the first ever official timekeeper for the Lakers, a team that boasts 16 National Basketball Association Titles. Hubolt however, is not new to sports sponsorships, or the NBA. They have also sponsored England's legendary Manchester United soccer team, FIFA, Formula 1 racing, and Olympian Usain Bolt. In 2011, Hubolt announced a similar sponsorship of the NBA's Miami Heat.
Ricardo Guadalupe, CEO of Hublot, posed with Lakers star Kobe Bryant and Lakers Executive Vice-President Jeannie Buss on the court of the Laker's game Wednesday in announcing the partnership.
While many luxury Swiss watchmakers have histories that go back 100 years or more, Hubolt is young by comparison. Hubolt was formed in 1980. They have aggressively used sports marketing to build their brand and awareness. They are also said to be makers of the world's priciest watch called "The Five Million". I guess that tells you it's price.
If you are looking for a bit of luxury watch trivia to share with friends, let them know that Hubolt is actually a French word, meaning "porthole". Well it appears this porthole is now setting sail with the Lakers.
Raymond Z for Raymond Lee Jewelers, South Florida's premiere source for buying and selling luxury watches and designer jewelry.