Goldgenie and HTC launched the HTC One deluxe edition, which main "ingredient" is 18 carat gold. So far, it is the most expensive smartphone from this Taiwanese company.
HTC joins Apple and Samsung to launch a gold version of its flagship smartphone, HTC One. However, HTC decided to go step further and instead of offering their top model in gold color option, they covered its body in 18-carat of pure gold.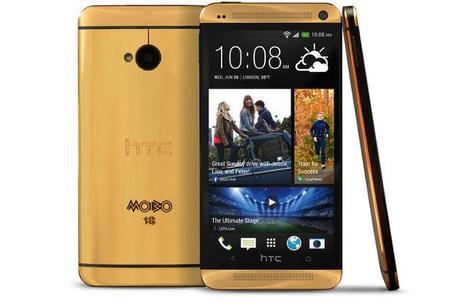 HTC One in 18-carat Gold
This luxurious version of the HTC One was created in collaboration with Goldgenie and is going to be available for purchase at the price of nothing less than 2.750 pounds or 3.600 euros at current exchange rates. The phone body is plated with 18 carat gold and comes with the laser engraved MOBO 18 logo on the back.
This is the most expensive phone that the Taiwanese manufacturer has ever created, and therefore they produced only five units. One of these five golden smartphones will be awarded to the winner of the Best Newsomer category at the popular MOBO Awards, sponsored by  HTC. As for the specifications, this 18-carat gold body hides exactly the same features as the regular HTC One model, such as HTC Sense 5.0 interface, Android 4.3 Jelly Bean OS, a 4.7-inch display in high definition, BoomSound speakers and Ultrapixel camera.