The final round of the HSBC Women's Champions looks like one of those great things in golf: a good old-fashioned duel. If stroke play can ever look like match play then this is it. Separated by just one stroke, and a further five shots clear of the rest of the field going into the final round, Chie Arimura and Karrie Webb have been conducting their own private battle. Tim Maitland reports.
The duelists could not be more different: Chie represents the future, Karrie is already a legend.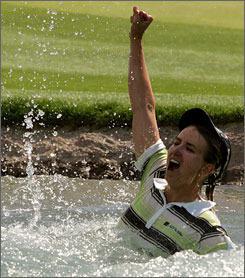 credit: Karrie Webb winning Kraft Nabisco
Webb at 36 has seen it all, done it all and got the t-shirt! She qualified for the World Golf Hall of Fame 11 years ago and when she became eligible to be inducted in 2005 she was the youngest inductee ever at that time.
Arimura in sharp contrast has never won outside Japan, but those who have watched her burst onto the scene on the JLPGA have been expecting her to break through internationally. At just 23 years of age she already has seven wins under her belt, including five during a spectacular 2009 season: she knows how to win.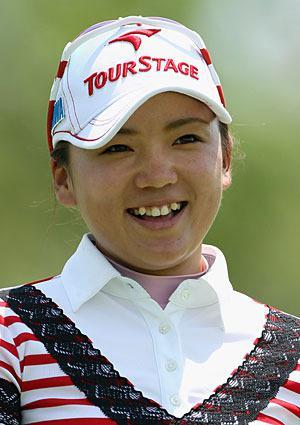 credit: Golf Digest
"It's still not easy! With each experience you learn the nervousness and the pressure you have to go through. I say I'm still not used to it!" Arimura says.
The main reason that an international win is missing from her young CV may be that she hasn't played that often outside her homeland. During her great 2009 season she showed up at the Evian Ladies Masters and the Women's British Open and last year she played the HSBC Women's Champions, the Evian and in all four LPGA majors, finishing 9th at the Kraft Nabisco, 32nd in Singapore.
Those with insider knowledge of the Japanese game, such as 2010 HSBC Women's Caddy of the Year Dean Herden, have been expecting her to breakthrough internationally.
"I'm not surprised at all. She had a wonderful year in 2009 and she really learned how to win that year. She's a real hard worker and she's probably the toughest Japanese player since I've been caddying on the JLPGA Tour! All that hard work pays off somewhere down the line," says Herden.
"She hits her iron shots so straight and you need to do that around this course. She's a complete player. She hits it so straight off the tee and she hits her irons so straight and she's deadly with the putter. All round she's got a great game; there's not one part that is weak. She chips well, she does everything right. She's cute and she's known for that in Japan; the smile, the good looks and she's not very tall. She's quite famous too, her and Sakura Yokomine," he adds, before insisting that, if Chie wins on Sunday it won't be long before her name is just as accepted as those of Ochoa, Shin (who he caddied to victory in 2009) and Ai Miyazato.
"It's the great thing about this event, it's a great stepping stone for every player; once they win this it gives them the confidence to go on to even bigger and better things. I think Chie can probably win a US Open she hits it so straight and they set up those courses with long rough and tight and she'll kill it," Herden insists.
Arimura's caddie this week, Lionel Matichuk, who works permanently on the Japan Tour, has also known Chie was bound to break out internationally sooner or later.
"She's good. She's good enough to do it. She's top quality; she just hasn't played many international events," said Matichuk.
"I've known her for three years and she's always been pretty good. This week she's just been in control, hitting a lot of solid shots into the wind, so the wind hasn't affected them much and if she's made a mistake somewhere she's recovered. She's got a good short game, pretty much everything."
As if playing almost head-to-head with a legend like Webb – a winner of 7 majors and 36 LPGA events – Arimura will also have the hottest player on the planet in her 10-10 a.m. group. The world number one Yani Tseng, still in with a chance of winning for the fourth week in a row and her fifth consecutive event, leads the best of the rest six shots behind the young Japanese star.
"To play amongst these great players, even now, feels very much like a dream, but I'm calm and I think I'm ready to play well," Chie insists.
"We had the duel between Lee Westwood and Francesco Molinari at the WGC-HSBC Champions in Shanghai last November and people are still talking about that," says Giles Morgan of the event won by the young Italian.
"That battle was compared, not equal to, but compared with the 1977 Duel In The Sun at Turnberry between Nicklaus and Watson; that's how special duels are and if we have one in the final round in Singapore the fans are in for a treat!" he adds.
Arimura, who has never won an LPGA tournament, will be paired Sunday with Webb and world No. 1 Yani Tseng of Taiwan, who shot a 69 Saturday and is six strokes off the lead.
Follow Tim Maitland on Facebook
Read Golf for Beginners blogs
Voice your opinion on Golf4Beginners on Twitter