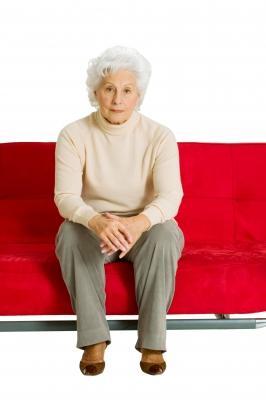 So this has been going on for many years, since I was 16, I am 25 this year. I lived with my Nan from the age of nine, just me and her. She used to look after my cousins but only I lived there. I saw my mom but things were hard, the reason I lived with my Nan.
It was great living with her over the years. As I got older I was your normal teenager, I did go out shop lifting, not proud one bit, the one time I didn't go out with friends they got caught. I never did it again.
When I was at school I met my partner. At 16 me & my Nan had a falling out because I wanted to stay over, at his, she told me if I went I couldn't come back… I went.
I soon fell pregnant. I still saw my Nan. And out of all the people I was most scared about telling, wasn't my mom nor my dad, nor my partners family, it was my Nan. She was great, supported me, brought baby things, even the buggy.
My mom and Nan didn't get on, I'm not sure of the ins and outs all I know is my mom wasn't very nice to her and my Nan had had enough.
I went back to live with my mom while I was pregnant. But we had yet another row and that was the last. She died 3/7/05 my nans birthday.
When my Nan came to get me and my oartner from next door (we found mom dead on the floor) all I could think was how I had forgotten her birthday, I felt so guilty. She took me and my partner home, we stayed for a few days., then went back to my partners mums.
Nan organised mums funeral. It was for 20/07/05. The week before I went to see the midwife, I had to be induced as there was a reduced amount of fluid and movements. My Nan came with me. She was there with my partner and his mom. She cut his cord. Not once did I wish my mom was there.
I moved in with my partner and baby in the November. My Nan moved down to the coast. She came up every week too still look after my cousins. But it wasn't the same. I couldn't pop over for a coffee when ever. It killed me.
I had a second son 28/01/08 again my Nan was there. She was my rock. Last year she told me how she wouldn't be coming down every week any more. My heart broke. She said every two weeks but that's not enough. I knew it was coming. Still it was hard.
I gave birth to my baby girl in September, my Nan missed it by half an hour. I was crushed. I have cried every day since. I just wanted my Nan there. She came as soon as she could. She was there very soon after and was the first person to see her. But to me that wasn't good enough.
Although my Nan has been the first family member to see my baby despite living the furthest away, I still want more.
Call me selfish or anything I don't care all I want is my Nan.
She told me I could have gone back even when I was pregnant at 16. But I didn't want her stuck with me and a baby. All she wanted was to live down the coast. I gave her that. But I regret it.
Everyone else has left me, even those who live ten minuets down the road can't be bothered with me. Not my dad not my partners family. Even when I did the worst thing ever and took an overdose in 2009 ( she had enough of stuff going on with her husband and my mum) she never gave up on me and was there.
I call her every day. When ever I go to town I pick her up things that I think she will like, be it the tablets she has when on offer or a bottle of bleach.
I can't do much for her, but I can do these little things, I always make sure she has a nice birthday and Christmas card. Try to get her nice bits too but have been told no more things as she has no room.
Every day I keep thinking of when she won't be able to come up, what will I do? How will I cope? And then the when that day comes. She's 75 this year, wouldn't believe it thou. I love her so much and I know I can't cope with out her. What am I going to do? She is more than my Nan she's everything to me.
This inspirational post was written anonymously by a mom who is either a member of my Facebook mums group, a Twitter follower or has been submitted to me via email. I have full permission to share her story. If you can relate to this post and would like to share your own anonymous post please contact me. You could help us share the blogs love to helping others by sharing via the social sharing buttons.