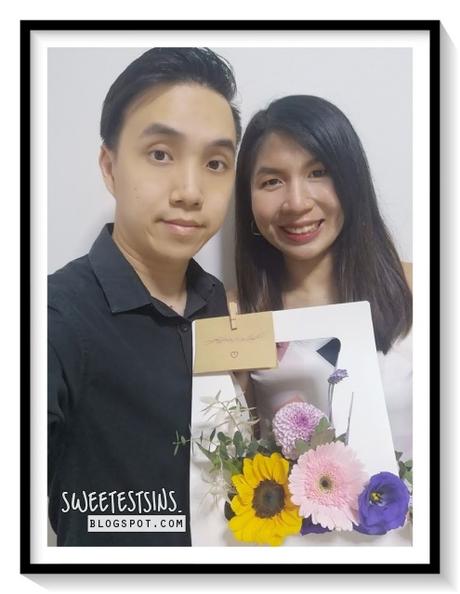 When we were still dating, my husband (boyfriend back then) would always bring me out for fine dining on special occasions such as birthday, valentine's day as well as on our anniversary. He would never fail to get me a bouquet of flowers each time, knowing how much I love them. 
After we got married, I told him that we shouldn't celebrate our dating anniversary anymore since we have another anniversary - our wedding anniversary. Or else, there will simply be too many celebrations. He agreed but he said we should at least have a meal together. Take for instance, we went for a day trip to JB last year on our dating anniversary and had my favorite noodles from GO Noodle House and we finally tried Arashi Shabu-Shabu! I don't know about you but little things such as spending quality time together brings a smile to my face. I guess, that's what they say about how our priorities change after we enter a different phase in life? 
This year, as usual, we had dinner plans at an Issan Thai restaurant that has been popping up on Instagram. This pregnancy has me craving for spicy food all the time! I don't even like spicy food to begin with in the past! However, we had to cancel our dinner plans due to a family emergency which we were informed during late noon.
Even though dinner was just bak chor mee at a medical institution's food court,  I'm glad that we managed to spend time and have dinner together. After a long day, we came home to this!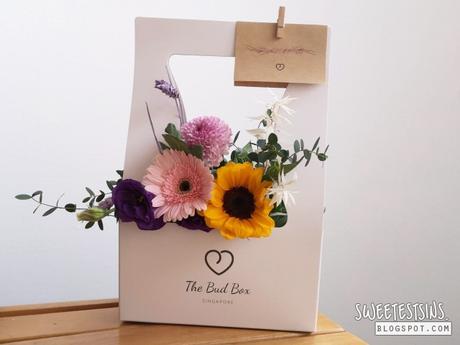 Love this floral box from The Bud Box that consists of my favorite sunflower, pink gerbera along with pompom and dried ranculus. 
I think it makes a great gift for special occasions such as birthday, graduation, valentine's day, anniversary or as a get well soon gift or even just to brighten up someone's day! The fact that it comes with a handle makes it so much easier to transport it around. What's more, you can leave it on your dresser or table just like I did without having to put it in a vase!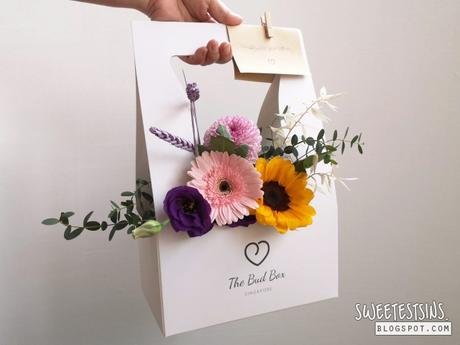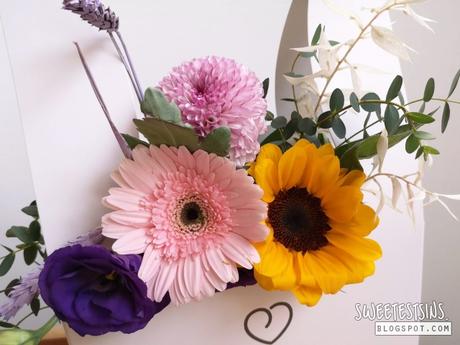 Best of all, you will be pleased to know that all floral boxes at The Bud Box cost nothing more than $35! If you're not fussy about the design, the box of the day is only $30! Don't wait, head over to The Bud Box now for affordable flowers!
thebudboxsg.comfacebook.com/thebudboxsgInstagram @thebudboxsg


--------------------

CONNECT WITH

--------------------

SWEETESTSINS