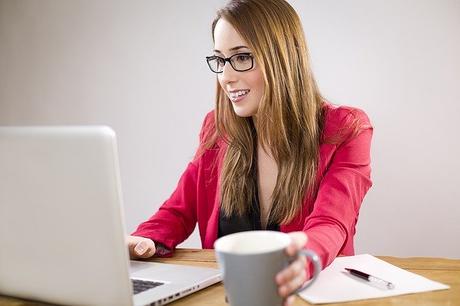 Millions of Americans are suddenly finding themselves having to work from home, including many of my clients. It has become a big subject in our coaching sessions. They want to know how to:
Manage their time and energy
Stay focused
Keep work from overtaking their personal lives
Avoid feeling isolated
And, more
Since this is a big topic right now, I thought I would share my ideas with all of you.
Set up a dedicated work zone
When you have a specific space for working from home there can be more of a recognizable transition between personal and work time. If you don't have an office, a corner or table can work well. Just imagine a line around the space to remind you it is set aside for a specific purpose. Here are some ideas:
Keep all of your technology, papers and tools in this space.
Clear clutter and personal items from the area.
Make it comfortable and inviting.
Keep it well lit, preferably with natural light.
Create a framework for your days
One of the dangers of working from home is that you get lost in your work and it takes over your entire life. The opposite can also be true if you become unmotivated and start procrastinating with your work assignments. Here are some things to consider:
Write an outline of your ideal day and use it as a guideline.
Schedule in breaks and meals.
Keep regular hours.
Consider creating morning and end of day routines.
Put blocks on your schedule for focused work time.
Manage your energy
When you work from home and are alone all day it is easy to lose your rhythm and motivation. It is also important that you start each day with a clear direction and optimize your physical and mental energy. Here are some ideas you may want to try:
Set an intention for each day before you start working. Or, choose 3 words you want to use to guide your day. I often use words like positive, productive, calm, or focused.
Focus on the task at hand
Take breaks. You may want to stretch, take a quick walk, or go outdoors for a bit. Whatever you choose to do, be sure to leave your work area.
Set an alarm for your breaks and the end of your work day to make sure you don't skip them.
Keep your body and brain working optimally by eating regular healthy snacks and meals.
Mix things up. Some people do best when they alternate between work assignments and other things that need to be done throughout the day. Having variety can prevent boredom or feeling stuck to your chair.
And, a few more tips for working from home
Make sure that anyone else in your home knows to respect your work space and time.
Gamify your work to make it more fun. One way to do this is to give yourself a period of focused time to work on something and try to beat the clock or do it faster than the time before.
If you are having trouble feeling motivated, give yourself rewards for goals completed.
Reach out to your former co-workers to stay feeling connected.
If you start to feel tired, bored, overwhelmed, or groggy, going outdoors or doing something physical can re-energize you.
Do your best within the allotted time and know that it is enough.
Break things down into small chunks you can complete easily. This allows you to build a pattern of success and be more motivated.
Imagine a line you step over as you leave your work zone. Use it as a reminder that you are leaving work behind when you step out of that space.
Get dressed, make your bed, comb your hair and brush you teeth. You will feel better when you do these things.
You will have more time for exercise. Go for it!
Frame each day in the positive, focusing on what you can be grateful for during these strange times.
These ideas can help you feel better and be more productive as you work from home. You may even grow to enjoy it and ask for remote days in the future.
I would love to hear what other things you do to work at home successfully. You can leave your comments below.
Related Posts:
How to Create a Work Environment that Supports Your Success
Brain Hacks that Support Success
How to Get Your Mojo Back
by